Chelsea produced a superhuman display to become the first away team to beat Atletico Madrid at their new stadium on Wednesday night.
So it is perhaps understandable that UEFA wanted to make sure Antonio Conte's men hadn't consumed any magic beans to aid their Champions League performance.
Although Alvaro Morata and Michy Batshuayi were Chelsea's goalscoring heroes, it was defenders Marcos Alonso and Cesar Azpilicueta who were asked to pee in a pot.
Many players have famously taken offence and put a grump on after being picked for a drugs test, but Azpilicueta and Alonso – still (legally) high from seeing Batshuayi score a 94th-minute winner – were all smiles as they waited to donate urine.
SEE ALSO:
Diego Costa killed off by Chelsea star in post-Atletico Twitter barb
Chelsea back in England early after beating Atletico Madrid in Champions League as Blues switch focus to Manchester City
Blues ready to break Premier League record with £15.6m-a-year deal for former FIFA Ballon d'Or nominee who will replace Paul Pogba as most expensive player

Azpilicueta took to Instagram to share a selfie with Alonso.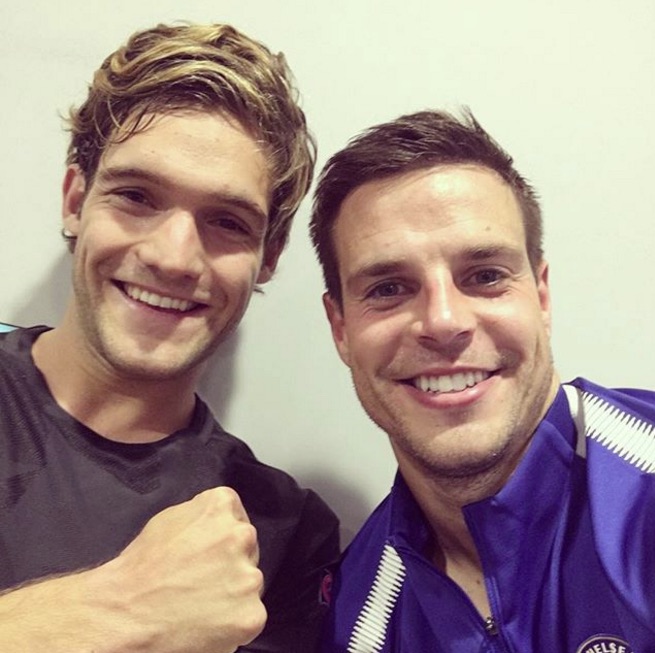 He accompanied the photo with the caption: "With my friend @marcosalonso28 in the doping control after this HUGE WIN!!! Come on Blues!!!"
Chelsea's late victory put them in control of Group C, with the Blues now five points clear of Atletico and two above Roma ahead of a double-header against the Serie A outfit.