Arsenal striker Olivier Giroud is a good-looking man. In fact, in 2014 we crowned him the hottest player in the Premier League.
Therefore, it is perhaps no surprise that the 30-year-old French forward, who earns £100,000 a week according to the Daily Star, has become the victim of a Tinder catfish.
A hopeful perv calling himself Pete and claiming to be 26 has stolen a bunch of Giroud's photos in an attempt to pick up women on the internet.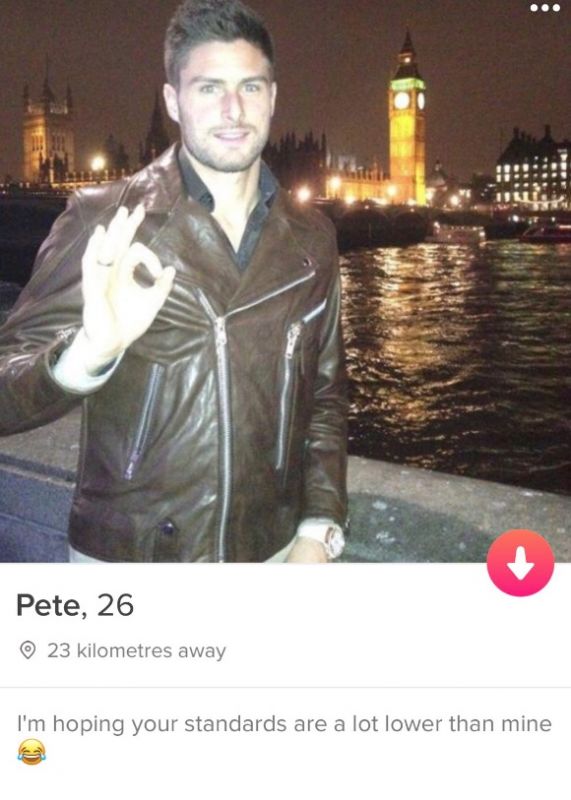 READ MORE:
Disgraceful Marcos Alonso banner unveiled by Spurs fans
Footballer loses testicle after being kicked between the legs
(Photo) Paul Pogba spotted with mystery blonde, dons Man Utd shorts as he enjoys Miami-style recovery
Pete, who wrote "I'm hoping your standards are a lot lower than mine" in his bio, was outed on Twitter by AOIFE – (@aoifewalsh90).
Gunners fan AOIFE claims on Twitter that she "loves Ozil, hates bastards".
She shared a screenshot of Pete's Tinder profile, along with the words: "You look familiar, Pete".
AOIFE went on to write: "His other photos were just normal Giroud ones. Imagine thinking you're going to meet him!"
She added: "He was stupid enough to match me (I did it ironically) even though I've got Arsenal in my bio".
We can't image Pete has had too much success in his mission to romance women by pretending to be Giroud.
The picture he chose clearly shows Giroud wearing a wedding ring FFS!
Of course, there is a slim chance that the man behind the profile really IS Giroud and that he's actually the one stealing Pete's name…
SEE ALSO:
(Photos) Cristiano Ronaldo's new car cost Real Madrid ace nearly six weeks' wages
Georgina Rodriguez looks stunning as Cristiano Ronaldo's girlfriend shows off baby bump
Chelsea ready to break Premier League record with £15.6m-a-year deal for former FIFA Ballon d'Or nominee who will replace Paul Pogba as most expensive player