Man Utd midfielder Paul Pogba is currently sidelined with a hamstring injury. There might be a few of us keen on pulling a hammy too if this is the life it brings.
The 24-year-old suffered the setback against Basel in the Champions League last month, and is expected to sit out the next few weeks to allow the issue to heal, with surgery previously touted as an option.
However, as reported by The Daily Mail, he's currently being allowed to stay in Miami to continue his treatment and recovery and seems to be enjoying himself.
It's claimed that he's been hanging out with the same female companion that he was spotted with in pre-season, as they enjoyed time together strolling down Miami beach.
Further, it's noted that his 'friend' was seen wearing a 'PP' pendant on her necklace as it looks as though the pair are getting on rather well.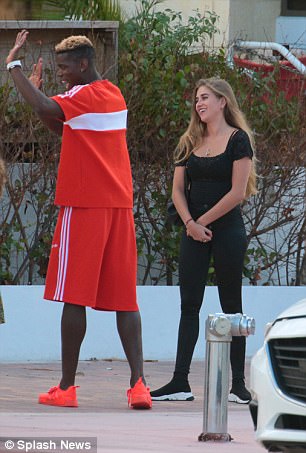 Meanwhile, while Pogba's not frolicking with his friend and presumably doing some rehabilitation work to recover from his injury when he can fit it in, he has been spotted with fans, as seen below.
Either he really likes wearing these Man Utd shorts or he simply just enjoys a free pair courtesy of the club, but fans will undoubtedly love that he's still representing the club Stateside.
As we mentioned earlier, if this is what an injured hamstring brings you, it's not a bad life…