Cesc Fabregas isn't exactly Mr Popular at his old club Arsenal anyway, but he's made a surprise admission about his Chelsea career that is sure to tarnish his reputation even further.
The Spain international left the Gunners for Barcelona back in 2011, returning to a club he'd grown up supporting and where he'd started his career.
READ MORE
In-form PL star ignored pleas to stay at Chelsea
Key Chelsea stars result in €147.3m upturn in squad value claims football study
Chelsea ace convinced he has backing of CFC boss
However, Fabregas struggled to hit top form in his three seasons at the Nou Camp, and made the surprise move back to the Premier League with Arsenal's bitter rivals Chelsea in 2014.
Gooners have never quite forgiven him for turning out for the Blues, and he it's now been revealed he wishes he'd joined them sooner.
Former Chelsea captain John Terry uploaded an image yesterday showing a signed shirt from Fabregas to him, with a goodbye message written on from when Terry quit the club at the end of last season.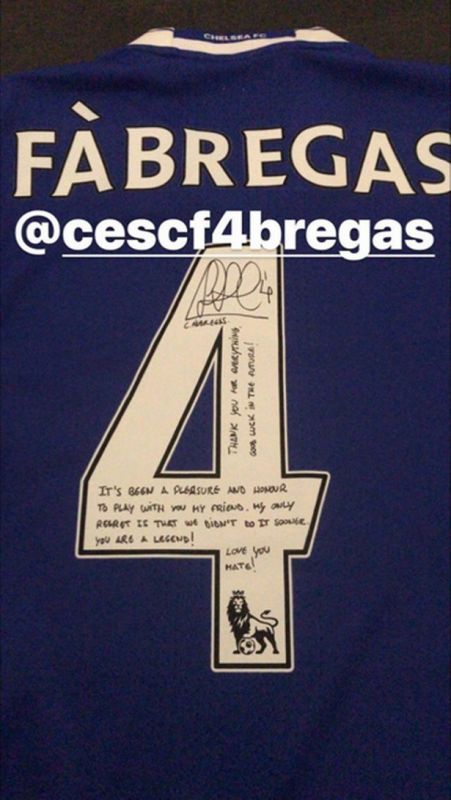 The message read: 'It's been a pleasure and honour to play with you my friend.
'My only regret is that we didn't do it sooner. You are a legend!
'Thank you for everything. Good luck in the future! Love you mate!'
In theory, Fabregas may simply have been thinking along the lines of Terry moving to Arsenal or Barcelona at some stage, but with that never a likely outcome, the 30-year-old clearly regrets leaving it so long to join Chelsea.