Argentina were last night held to a 0-0 draw at home to Peru in a crucial World Cup qualifier and have now slipped out of the qualifying spots for Russia 2018 with just one game left to play.
Argentina have not failed to qualify for a World Cup since 1970 but now sit sixth in their qualifying group. As an England fan you can often be lured into believing that the international break is one of the most boring parts of the football season. However, just one glance at the South American qualifying group below will tell you otherwise.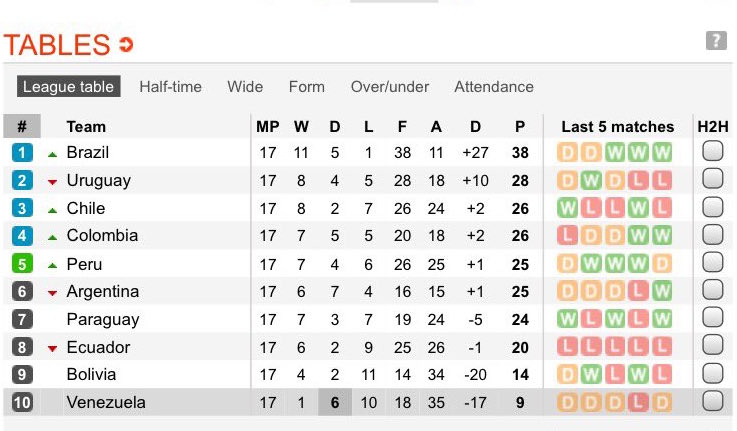 Yes, you read that correctly. Just two points separate second place and seventh place! With the top four automatically qualifying and the fifth placed team being granted a play-off fixture, it still remains that Lionel Messi's Argentina could miss out on next year's World Cup.
Incase this wasn't enough drama for you, Peru not only held Argentina to a goalless draw last night at the La Bombonera in Buenos Aires' but are now on the cusp of also qualifying for their first World Cup since 1982!
As mentioned earlier, the last time Argentina missed out on a place at the World Cup was 1970. And, who was responsible for their demise that time? Yes, you guessed it – Peru.
Peruvian fans spent the week in Argentina dressed as 'ghosts from 1969' to remind Argentines that the so-called 'curse of '69' was still alive and ready to haunt them, and so it did.
Number 1 pic wanted is w the 'Ghost of 69' laughing at the last time Argentina missed the WC… And yes it was Peru who knocked them out pic.twitter.com/sp49mQ35Z3

— Eli (@ElMengem) October 6, 2017
Argentina will face Ecuador next Wednesday in perhaps their most important and significant international fixture of a lifetime. The full set of remaining fixtures can be seen below and it looks to offer far more excitement than watching England crawl to 1-0 victory over a European nation you've probably never heard of before.

If you have ever questioned whether the international break is necessary and if it even means anything to anyone in current times, just take one look at the footage and pictures of these Peru fans from last night. South America – you're doing it right!
Peru fans taking over the streets of Argentina tonight ??

?: @SheySaldana pic.twitter.com/X2eRCALJ22

— COPA90 US (@COPA90US) October 6, 2017
¡Increible! Miles alientan a la #SeleccionPeruana en las afueras de hotel en Buenos Aires (Video: @Jorrolo) https://t.co/OclGZsKOCJ pic.twitter.com/VCiN0kHY5L

— Agencia Andina (@Agencia_Andina) October 5, 2017
THIS IS BUENOS AIPORT RIGHT NOW AS PERU ARRIVE. NOTE THE COLOURS.THIS IS THE AWAY FANS FROM ANOTHER COUNTRY. THIS IS THE INTERNATIONAL BREAK pic.twitter.com/UHndYPakRt

— Eli (@ElMengem) October 5, 2017