Arsenal fans aren't happy.
Mesut Ozil turns 29 today, which should be a time of celebration for the Arsenal star, but it's all gone a little sour early on…
The Gunners' official Twitter page took it upon themselves to wish a happy birthday to Ozil this morning, but unfortunately for them, they've been inundated with criticism of the Germany international.
READ MORE
10 players set for shock Premier League exits in January transfer window, including Arsenal duo
Barcelona assessing transfer raids on Arsenal and Manchester United in bid to solve problem position
Arsenal news
Arsenal Twitter is in a predictably foul mood this morning after yesterday's tame defeat to Watford, during which Granit Xhaka also came under fire for standing around picking his nose as Tom Cleverley fired in a late winner for the Hornets.
Still, Ozil had another invisible game as he came on off the bench in the 61st minute, with fans and pundits alike quick to pounce on his lack of meaningful contribution.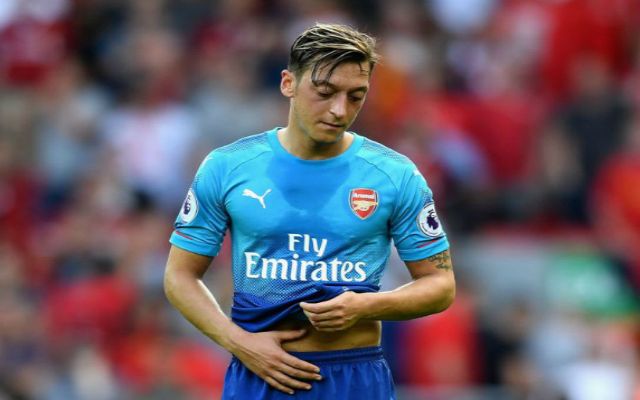 Martin Keown was particularly harsh on Ozil afterwards, blaming him for missing the chance that could have killed the game for Arsenal.
'People might think I'm gunning for him, but you've got to be clinical in those situations,' Keown told BT Sport, as quoted by Goal. 'Is he really bothered? He's just missed a chance to win a game for Arsenal.'
Arsenal fans turn on Ozil…
Mesut turns 29 today pic.twitter.com/KK9qo2rm4l

— Arsenal FC (@Arsenal) October 15, 2017
Delete this and just shut up for a few days.

— @wood (@attwood10) October 15, 2017
Please delete

— Kick Arse (@kickarseHD) October 15, 2017
As a birthday present, terminate his contract. Thanks

— Goonerologist (@Mahadk09) October 15, 2017
Happy birthday. But he's one lazy bottle job! Doesn't merit another contract, would rather have seen @JackWilshere come on instead

— Martin gibson (@Marv4ellous) October 15, 2017
How about coming and saying sorry for that performance ??? Rather than getting us to be happy for someone who doesn't want to play for us!!!

— Stuart Pryor (@StuartPryor1) October 15, 2017
Why is he running in this pic?? Shouldn't he be walking around hands on hips

— Jon Sessions PT (@jonsessions1) October 15, 2017
Fkkk him. He's now like a curse to the club, can't get anything right. Played a part in our defeat yesterday

— Dick Jacob (@NDickJacob) October 15, 2017