Everton slipped to a 2-1 loss at home to Lyon as their woes continue. However, it was a fan who stole the show.
The tie descended into chaos in the second-half when captain Ashley Williams pushed over Lyon goalkeeper Anthony Lopes. Players from both sides descended into a brawl with the fight pushing over to the stands behind the goal as fans started to involve themselves.
SEE ALSO:
European giants want Chelsea's Conte with the manager's future now uncertain
Man United and Chelsea both looking to secure the signature of £40m Italian wonderkid
Paul Scholes believes Mourinho is winning mind games in Man United vs Chelsea battle as Conte bites back with this reply
Williams himself was lucky to avoid a red card for his actions during the incident and stayed on the pitch to nod home a free-kick minutes later to momentarily draw Everton level before they again slipped behind.
Everton now sit at the bottom of Group E with their Europa League dream all but over.
Ronald Koeman is likely to be under even more pressure than before with the Toffees' league form no better. Everton currently sit 16th in the league, just two points above the relegation zone.
The man who stole the show however was the Everton fan below who casually strolled over to a Lyon payer with his child in one hand. Using his spare hand the fan aimed a slap at Lyon players (who said men can't multitask?).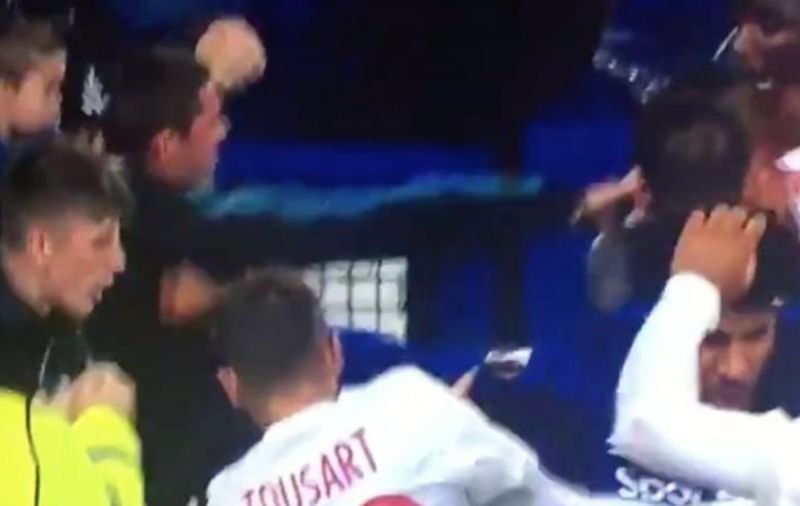 You can watch the crazy moment below. It really does add a whole new dynamic to the English football hooligan stereotype.
Yep. That's an Everton fan with his child trying to hit a Lyon player. pic.twitter.com/px3PtMTSHm

— Ben (@InsideN17) October 19, 2017