Gleeful Tottenham fans were brought back down earth with a bump towards the end of their 4-1 win over Liverpool on Sunday as star man Harry Kane limped off the pitch amid fears he might have suffered a hamstring injury.
Kane – who was named as the man of the match after scoring two goals and laying on one assist – then gave a live interview with Sky Sports but reporter Geoff Shreeves did not ask him about his injury… not during the televised bit, at least.
Cue paranoia from Spurs supporters.
Twitterer Jake Kanter was far from impressed.
He wrote: "Sky's @GeoffShreeves asks Harry Kane a piffling question about Kobe Bryant, but nothing on why he went off clutching his hamstring. Bizarre."
Shreeves – who famously gives mid-match injury updates on EA Sports' FIFA games – quickly replied and told Jake that Kane was OK, based on his off-air conversations with Spurs manager Mauricio Pochettino and the man himself.
Geoff Shreeves delivers Harry Kane injury update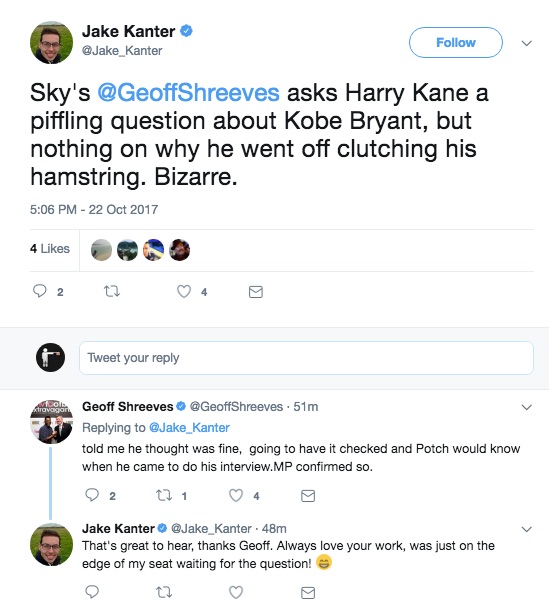 Cheers Geoff!
SEE ALSO:
Liverpool legend absolutely nails Jurgen Klopp's biggest blunder as Reds manager
Everton 2-5 Arsenal player ratings, stats and reaction
Liverpool reach unwanted milestone after catastrophic start vs Tottenham