When you sponsor a football team, the sensible thing to do is not to celebrate when they've just lost and lost badly. SportPesa evidently didn't get the memo after Arsenal's win over Everton.
The Gunners stormed to a 5-2 win over their rivals at Goodison Park on Sunday, piling more misery on the hapless Toffees as they languish in 18th place in the Premier League table.
After such an exciting summer of transfer activity, the season hasn't started the way in which they would have hoped or expected, and ultimately it cost Ronald Koeman his job as he left the club on Monday afternoon.
However, the result wasn't the only thing to infuriate Everton supporters on Sunday, as after their loss to Arsenal, their main shirt sponsor SportPesa thought it would be a good idea to share the tweet seen below.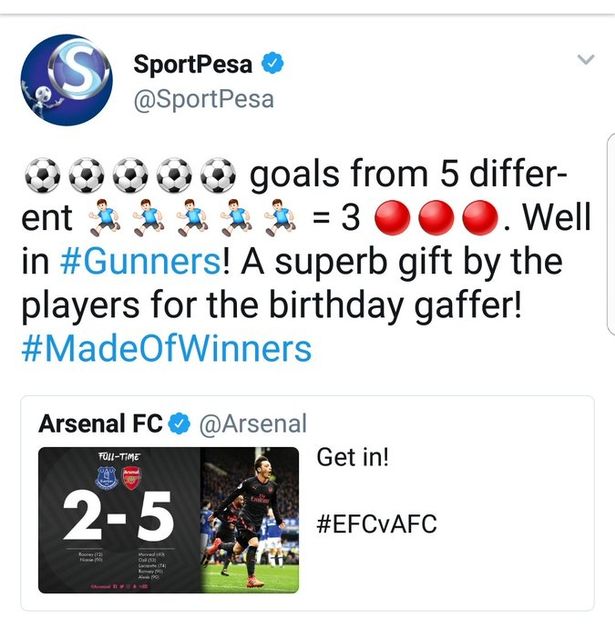 It's just not what you want to be doing as the sponsor of a club at any level, and in turn they've had to release a lengthy statement to apologise to the Everton faithful as well as the club.
While it's unlikely to be enough to end their partnership, the betting company will have their work cut out to now get the supporters back on side. It certainly provided plenty of ammunition for Arsenal fans to rub the result in though and perhaps the damage is already done.
"We're not going to hide behind excuses," the statement read, as reported by The Mirror. "We have to be honest in admitting that the tweet you saw yesterday should never have gone out and we are deeply sorry for any offence caused.
"When we signed our partnership with Everton Football Club it was one of the proudest moments in our history. Our relationship with Evertonians and the people of Merseyside means so much to us.
"We acknowledge a mistake was made, we have read your messages on social media and we understand the reaction. We are truly very sorry."