Arsenal fans have heard enough of stuff like this…
Arsenal manager Arsene Wenger attempted to defend one of his players today but ended up drawing widespread ridicule instead, and understandably so.
Responding to Ian Wright's suggestion on Sky Sports this week that Theo Walcott should leave the Gunners after falling down the pecking order, Wenger talked up his potential for the future once more.
READ MORE
Lionel Messi pushing Barcelona president to seal transfer of Arsenal attacker over Liverpool's Philippe Coutinho
PROOF: Arsenal & Tottenham are slickest transfer negotiators, Manchester United & City massively ripped off
Arsenal transfer news
This is despite Walcott being 28 years old and having 11 years of Premier League, Champions League and international-level football experience under his belt.
The England international joined Arsenal from Southampton when he was still just 16, and took some time to really develop and find consistency in Wenger's first-team.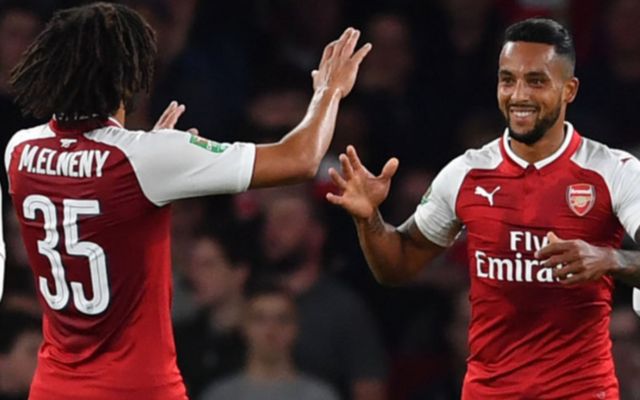 Despite some flashes of form last season, Walcott is struggling again this term, but Wenger still seems to be fixated on the idea that the winger can improve and become an important player at some stage in the future.
Asked about Wright's comments, Wenger was quoted by the Daily Mirror as saying: 'I do not want Theo to move on. His time in the Premier League will come.'
Queue fans right questioning the logic of the Frenchman's statement…
??? how long will Walcott be an up and coming player for? https://t.co/Gx5ACRhjNY

— Ian Rusagara (@Rusa_G14) October 26, 2017
Wenger talking about a 28 year old who's been at the club 10+ years as if he's a teenager… https://t.co/vRF2Y73beT

— Jack (@yolpeni_jack) October 26, 2017
Wenger on Walcott:

"I don't want Theo to move on. His time in the Premier League will come."

He's 28, when exactly? ?

— Ladbrokes (@Ladbrokes) October 26, 2017
He's 28, Arsene! https://t.co/M2M4Zvwj4B

— Rory Briggs (@RWABriggs) October 26, 2017
When will it come? He's 28 ?????? https://t.co/8VKvGpzPEW

— ? (@LuciferThought) October 26, 2017