Perspective needed at Arsenal?
Arsenal fans are a hard bunch to please.
When they're the most consistent side ever in terms of qualifying for the Champions League, it's not enough. When they slip out of the top four, it's also a crisis.
READ MORE
Arsenal name their asking price as Manchester City chase January transfer of Alexis Sanchez
Manchester United and Arsenal open talks over transfer of La Liga forward with tempting buy-out clause
Arsenal transfer news
When they go nine years without winning a trophy, it's a disgrace. But when they win three FA Cups in four years it's not good enough because it's not one of the more glamorous pieces of silverware out there.
When they play some of the most expansive and most entertaining football in the country it's not enough because they no longer defend like they did in the days of near-irreplaceable club legends like Tony Adams and Sol Campbell.
Yet even the harshest Wenger critic out there has to look at the below stat and get a sense of perspective on their current situation and what's really going on at the Emirates Stadium…
Arsenal's win percentage so far in 2017 is 67.4% – higher than any other calendar year in the club's history

— Josh James (@JoshJJames78) October 26, 2017
Yes, you read that right: Wenger is on course to guide Arsenal to the biggest win percentage in their entire history.
The Frenchman is rightly regarded as a legend for what he did in the first half of his reign with the Gunners, but few give him credit for how he's coped with the huge change in the footballing landscape in the second half of it.
Similar stats have come up in the last year or so, such as this one comparing Wenger's actual record in his first ten years vs his second ten years:
What an incredible stat, AW first 10 years compared to the last 10 years. pic.twitter.com/WzbNybTYaJ

— GeoffArsenal (@GeoffArsenal) September 30, 2016
Forget for a minute that Wenger has also gone about achieving this whilst coping with a fan mutiny almost on a weekly basis, and with the distraction of two of his star players Alexis Sanchez and Mesut Ozil heading for possible free transfers next summer after failing to sign new contracts.
Wenger has managed to get Arsenal winning more than he's ever done before – the only difference being that this generation is up against far more competition than the Invincibles-era side.
Until 2004, Arsenal pretty much had only Manchester United to worry about as a title contender. Between 1997/98 and 2002/03, Arsenal and United made up the top two of the Premier League in five out of six seasons. Since then, Chelsea have entered the fray, with Manchester City and Tottenham emerging as more serious contenders later on.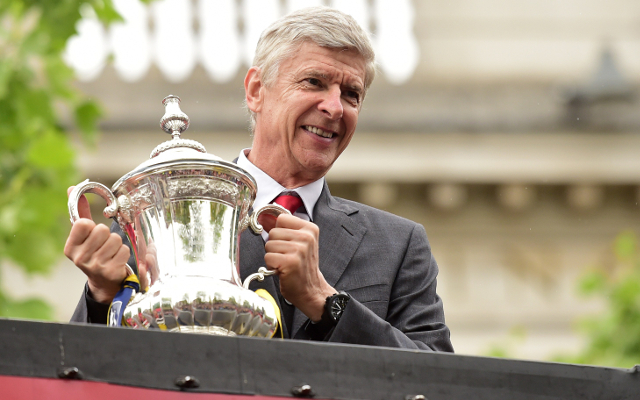 Arsenal fans may have justifiable cause to call for improvement in a number of areas, but the above stat just proves that the club is performing at as high a level as it has ever been – it is just those around them that have got far stronger.
Oh, and they still out-fought and out-played champions Chelsea in the FA Cup final in May, becoming the most successful club in the history of the competition. All in all, perhaps not such a disastrous 2017 as many of their fan-base would have you believe?