Liverpool defender Dejan Lovren has taken to Instagram stories to reveal a vile death threat that he and his family have received.
The Croatian international has endured a difficult season for the Reds thus far, as his performances have been heavily criticised while he was hauled off in the first half of his side's 4-1 defeat at Tottenham just over a week ago.
SEE MORE:
Klopp's warning for Liverpool starlet after England U17s heroics!
In turn, it's hasn't been the easiest of times for him, and it seems to be worse off the pitch as he revealed in the post below in which he shows the death threat against his family.
"I'm gonna murder ur family u Croatian p****", the comment reads.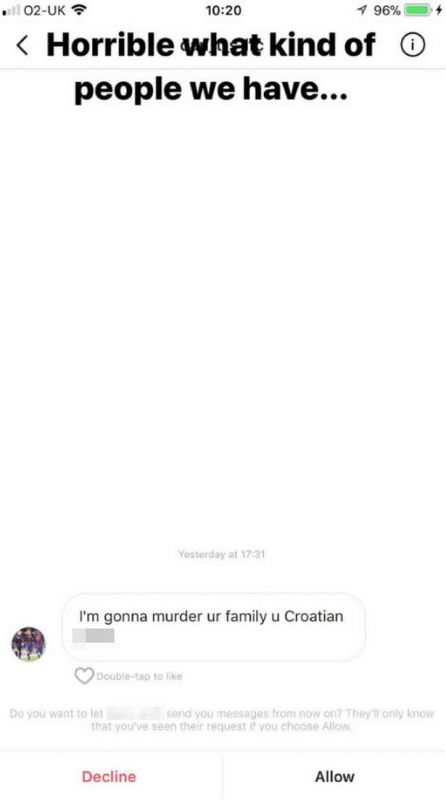 Lovren has two young children with his wife Anita, and he bravely exposed and responded to the threat as this was undoubtedly taking it too far beyond the personal criticism that he accepts he receives and doesn't mind.
"I don't mind when people talk s*** about me, its says more about them!" he wrote.
"But I can not ignore when my family is threatened. I just can't and won't accept that. Disgusting."
Speaking ahead of his side's Champions League encounter with Maribor on Wednesday night, The Express report that Jurgen Klopp was 'blocked' from speaking about the death threats, as ultimately an investigation is likely to be launched in the matter and so no comment will be given.
The German tactician was asked by a reporter about the matter, but the Liverpool press officer stepped in and insisted that the Liverpool boss would not be answering questions about it.
It remains to be seen whether or not Lovren features against Maribor, as aside from the fact that Klopp went on reveal that he had picked up an injury in the win over Huddersfield at the weekend, this off-the-pitch scare may well have had a negative affect on him ahead of the game.