Got to feel for the injured Arsenal ace!
Arsenal midfielder Santi Cazorla has revealed he nearly lost his foot after a horrific infection of gangrene during his year out with an achilles tendon problem.
The Spaniard has endured injury hell for the Gunners in recent seasons, playing just 23 Premier League games since the start of 2015/16.
READ MORE
(Video) Santi Cazorla attempts to recreate Thierry Henry's greatest Arsenal goal
And Cazorla even had reason to fear for his career after eight operations in the space of a year, according to the Daily Mail.
The 32-year-old has been a big loss for Arsenal during his time out, with arguably no one else in Arsene Wenger's squad able to provide the quality on the ball from a deep-lying midfield role in the way that he does.
An image on the front page of today's Marca shows the state of Cazorla's foot after a difficult period in his career, with concerns at some stage that the infection of gangrene could even be a risk to his life.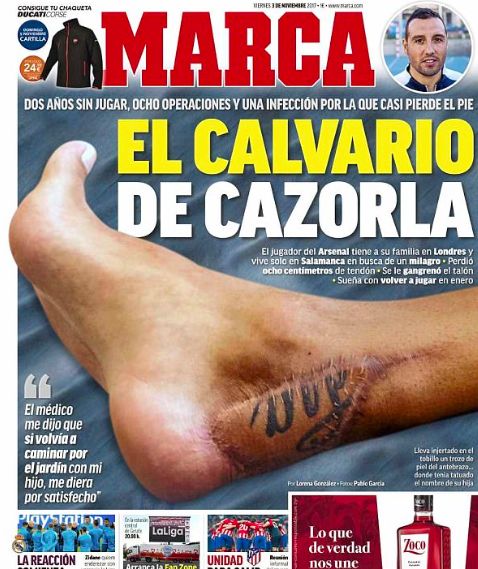 MORE: Arsenal news
In his interview with Marca, Cazorla also revealed multiple operations have resulted in the loss of as much as eight centimetres from his right ankle.
Arsenal don't have the best record of dealing with players with long-term injuries, with Tomas Rosicky, Abou Diaby and Mikel Arteta also among those who spent lengthy periods on the treatment table in recent years.