A look back at the big talking points of this weekend's Premier League action.
What a schedule of football we had on Sunday – and didn't it live up to the hype? Manchester City beat Arsenal and Chelsea overcame Manchester United with plenty of talking points along the way.
The only downside, of course, is that the Premier League title race is now over before the advent calendars have come out, meaning the focus now moves on to the rather tedious race for fourth, which only Arsenal care about, and the race not to be sacked, which Arsene Wenger is not involved in anyway.
READ MORE
(Video) Memphis Depay scores another beauty just after Manchester United's lack of flair exposed against Chelsea
Are we jumping to conclusions a little early? Well that's what this column is for, so here's our latest offering of knee-jerk reactions to what we saw on the pitch this weekend…
Manchester City are Premier League champions
That's the knee-jerk reaction of this Manchester United fan, Dave. Still, it's hard to argue with him.
Sure, City made a flying start to last season before completely falling apart, but it's hard to imagine a Pep Guardiola side being that woefully inept for two seasons in a row.
After a difficult bedding-in period in which the Spaniard took charge of an ageing side with no full-backs, City now look the real deal this season, with everyone knowing their role and executing it to perfection.
The only surprise was that they did not put more goals past Arsenal, but no matter as they are now eight points ahead of a United side who no longer look much of a threat despite thrashing relegation fodder like West Ham and Swansea at the start of the season.
Alexandre Lacazette should leave Arsenal
Bild (via Sport Witness) have surprisingly claimed Alexandre Lacazette is a January transdder target for Bayern Munich, and we think he should get out as soon as possible.
Yes, he only joined in the summer and might want to give his new club some time, but come on, it's Arsenal we're talking about here.
Bizarrely dropped for the Manchester City game yesterday, Lacazette promptly came on as a sub later in the match and scored a well-taken goal to give the Gunners hope, before a controversial offside goal ended the game as a contest.
MORE: Arsenal transfer news
But why was he dropped in the first place? Why does Wenger not trust Lacazette in the big games? The Frenchman was already surprisingly benched for the 4-0 defeat to Liverpool, despite doing little wrong when he's actually been on the pitch.
No one will judge you, Alex. It takes guts to admit you made a big mistake. Now just make sure you take the next offer that comes and don't look back.
Jose Mourinho is turning into Arsene Wenger
At first glance, this looks like Arsenal's away record against the top six. 'LOL,' you chuckle to yourself 'how is that Wenger still in a job?'
Except then you look again and realise it's the top six away record of none other than serial-winner-bus-parker-extraordinaire Jose Mourinho, a far superior manager.
What has happened to Jose Mourinho? ? pic.twitter.com/PrwhS1pexD

— CaughtOffside (@caughtoffside) November 5, 2017
In all seriousness, how has Mourinho become such a pushover in the games he used to absolutely relish? One goal in his last ten away games against the rest of the big six is shameful.
Yesterday his negative tactics may have cost United their title challenge, and if he cannot quickly find a new way to make sure his sides are both solid defensively and smart in attack away from home, he's only going to continue to fall further behind.
Alvaro Morata is better than Romelu Lukaku
We went into more detail on this here, but it certainly feels like yesterday's match-winner Alvaro Morata earned a major win over his opponent Romelu Lukaku.
The Telegraph reported in the summer that Chelsea were in for Lukaku before he ended up at United, meaning Morata was certainly not the club's first choice up front.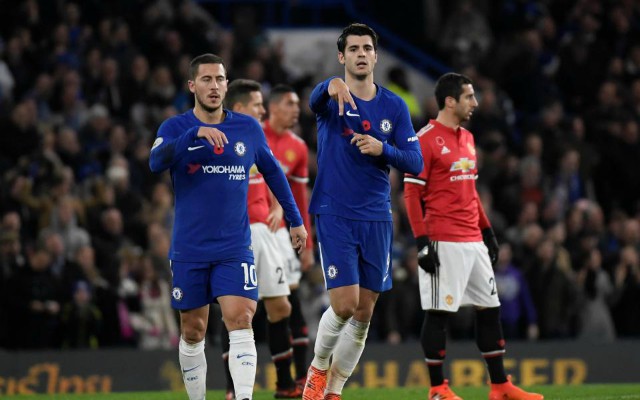 Since then the Spaniard has had critics lay into him for not being Diego Costa, but like so many previous Chelsea strikers he seems to have that big-game knack, and came up with the goods on a night when Lukaku completely went missing.
A modern day Didier Drogba/Thierry Henry comparison? There's something to it. While Lukaku may be the more skillful player, better to watch, and may well score more goals overall this season, Morata seems like the one more likely to keep his cool and come alive when it matters most.
Chelsea would miss Antonio Conte
Just look at the guy. Chelsea sure do get through their managers, and will point to a very successful record despite the constant upheaval, but can't they keep hold of this one for a little longer?
Conte at the final whistle #cfc #mufc pic.twitter.com/ZrKLQi6FKa
The game is changing, and perhaps managers are not as important as they once were. Perhaps it's now a smarter tactic to shake things up and get players to respond to someone and something new when things go wrong, but Conte certainly has an aura about him.
Every time things look like going wrong for the Italian, he responds with a big result like this. His Chelsea side certainly aren't as good this year as last, but then they don't necessarily have to be to win a cup or two or even the Champions League.
For all the talk of a crisis and of players losing faith in him, Conte celebrated wildly with his squad after yesterday's win. The bond still looks strong from where we're standing, and we hope Roman Abramovich can curb his sacking instincts just this once and give this manager more time.