Alberto Moreno talks about his difficulties at Liverpool last season
The Spaniard's relationship with LFC boss Jurgen Klopp hasn't always been easy
However, he notes that things are much better this season at Anfield
It's not been entirely smooth sailing for Alberto Moreno since he joined Liverpool in 2014, as he has discussed a sometimes-difficult relationship with Jurgen Klopp.
The 25-year-old arrived from Sevilla fresh from Europa League success, and was tipped to be a pivotal signing for Liverpool to fill an important void at left-back for years to come.
While he was a regular in his first two seasons, making 41 and 50 appearances respectively in each year, that number dramatically dropped in the 2016/17 season to just 18 outings.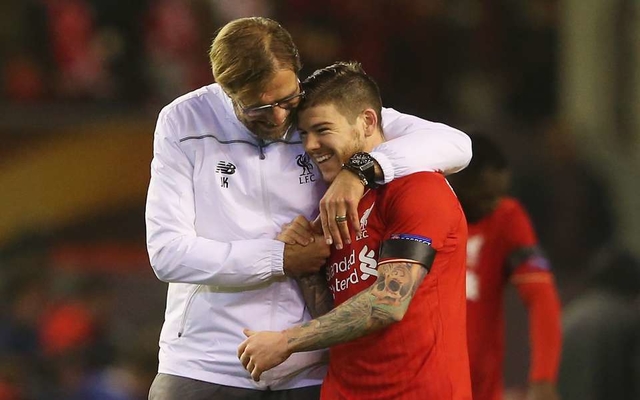 With Klopp preferring to play James Milner out of position instead, it was a response to some costly errors made by the Spaniard, who looked fairly suspect defensively and was still in need of improving that aspect of his game.
His work appears to be paying off having made 11 appearances in all competitions already this season as he's worked his way back into the team, but Moreno has revealed that it was difficult for him at times and Klopp didn't help with his decision-making and approach towards him.
"Klopp told me he was going to sign a left-back and that he couldn't promise me game time," he told Marca.
"I thought this was wrong, I spoke to my agent but he told me just to keep working. There came a point where I trained, looked around and knew that no matter what I did, they were not going to play me.
"Seeing my daughter every day and being with her saved me. It allowed me to isolate myself from what was happening."
"It has been strange. He arrived and I played every game, then at the start of the next season I disappeared."
While that was last season, Moreno went on to insist that things are much better for him at Liverpool now, as he has seemingly regained the trust of Klopp and has been rewarded for his improvements with a more regular spot in the backline.
"It is a totally different relationship. He even speaks to me in Spanish sometimes. He's helping me a lot and I think it shows. I'm a more mature player with better defensive awareness."
That's undoubtedly great news for him, but what it still hasn't led to is a tighter Liverpool defence. They've conceded 17 goals in 11 Premier League games so far this season, and while that's not to suggest it's all Moreno's fault, they still need to improve in that department.
Having got his place back in the starting line-up though, the Spaniard will be desperate to ensure that he doesn't 'disappear' again in the future.