Mesut Ozil has struggled to find his best form at Arsenal so far this season
Playing in a deeper role for Germany, he impressed against England
Arsenal fans wondering why he looks a different player on international duty
Arsenal fans tuned in to watch England take on Germany on Friday night, and while the game ended goalless, they had their eyes on one man in particular.
Mesut Ozil was deployed in a deeper central midfield two by Joachim Low for the international friendly, and while some argued that Ruben Loftus-Cheek dominated him, others were left impressed with what they saw from the German international.
The 29-year-old has struggled to find his best form this season, scoring just once and providing two assists in nine Premier League games.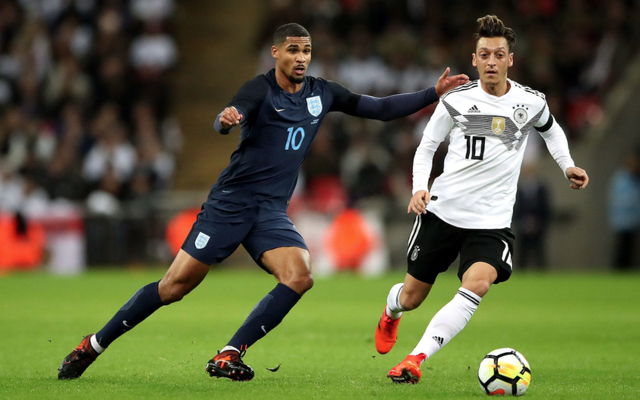 In turn, with his contract set to expire next summer and with no new deal in sight as of yet, it remains to be seen whether or not he commits his future to Arsenal, but it's clear what these supporters want to see from him moving forward.
Many were left questioning why Ozil looks a different player when he's with Germany, as what he was lacking in the 3-1 defeat at Manchester City last weekend in a disappointing performance overall, he was showing at Wembley on Friday.
Part of that must surely come down to the players around him and the system in place, and so naturally some pointed the finger at Arsene Wenger with Ozil looking much more effective pulling the strings in midfield with runners around him.
However, the key for the remainder of this season at least is to unlock that quality from the playmaker on a consistent basis in Arsenal colours, to help them reach their objectives and then see whether or not a new deal is signed or if he opts to leave on a free transfer at the end of the season.
Ozil becomes completely different player while playing for Germany

— Ali (@KhattakMj) November 10, 2017
Ozil that plays for Germany cannot be the same that plays for Arsenal.

— B L ? C K ?? (@BL_CKdroid) November 10, 2017
As soon as Ozil picks up the ball in Englands half, the entirety of Germany's attacking players make runs. They know that he can make passes that will find them.

— Henry-Lloyd (@Henrylloydseal) November 10, 2017
Ozil carving England's defence open like a pumpkin on Halloween.

— Teddy Westside (@IbrahimB_) November 10, 2017
Ozil playing in a deeper role & prospering? Ma gawd

— (._.) (@AFCKoyes) November 10, 2017
Great movement and ball from Ozil, where was that on Sunday though kmt

— The Peoples Champion (@TroopzAFC) November 10, 2017
Just as composed, just as tricky, just as languid. But Mesut Ozil shows onfield leadership for national team. #COYG #ENGGER Bring it back to #Arsenal

— arsenal-talk (@gunners4all) November 10, 2017
Ozil at CM next to Granit Yaka ahhh

— Jordan (@TargetManFC_) November 10, 2017
Ozil for Germany is different to Ozil for Arsenal… #WengerOut

— Mikey (@MikeyPSG_) November 10, 2017