Arsenal striker Olivier Giroud came close to leaving in the summer transfer window
Giroud could've joined Everton but says he has no regrets over staying at Arsenal
The Gunners ace feels he has the trust of manager Arsene Wenger
Arsenal striker Olivier Giroud has provided an update on his future following a summer transfer window full of speculation over his Emirates Stadium situation.
The France international remains a backup option for the Gunners at the moment, despite some strong recent displays for club and country.
However, Giroud says he's perfectly happy to have stayed with Arsenal and that he feels he has the trust of manager Arsene Wenger despite his lack of minutes.
'I am not questioning myself about my future,' Giroud told the Telegraph.
'I am happy at Arsenal and I am fine with the decision to stay because I want to. I am thinking that the story between the club and myself was not over and not finished. We will see what happens but I am happy at Arsenal for the moment.
'Arsene's always supporting me and there is a lot of trust in each other. He trusts in me and I try to give it back on the pitch when I can.'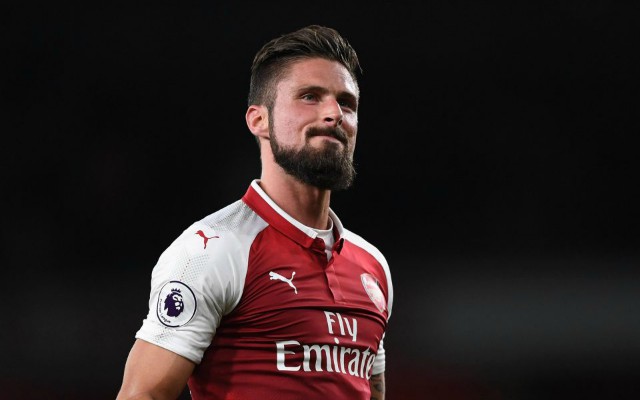 Former Everton manager Ronald Koeman revealed to the Mirror after his recent sacking just how close he came to bringing Giroud to Goodison Park.
'I had Olivier Giroud in the building. He would have fitted perfectly, but at the very last moment he decided that he'd rather live in London and stay at Arsenal,' the Dutchman said.
Very proud and honored to receive this trophy! Thanks again everyone for supporting me! #TheBestFIFAFootballAwards2017#PuskasAward2017 ???? pic.twitter.com/jeevVWje2y

— Olivier Giroud (@_OlivierGiroud_) October 23, 2017
Giroud has been at Arsenal since 2012, and while he perhaps hasn't ended up being the like-for-like Robin van Persie replacement they'll have had in mind that summer, he has been a consistent and reliable performer for the club.
The 31-year-old has 101 goals in 241 games for the north Londoners, and has picked up the recent habit of scoring wonder-goals, earning him cult hero status among the club's fans.