Real Madrid have encountered a difficult start to the season
Florentino Perez is eyeing five marquee signings between January and next summer
Possible arrivals would bring in new group of 'Galacticos'
Compared to their usual high standards, it's been a poor start to the season for Real Madrid and speculation suggests it could spark a major reaction.
The reigning Spanish and European champions find themselves 10 points adrift of leaders Barcelona in the La Liga table after just 12 games, while they missed out on top spot in their Champions League group.
That is uncharacteristic for a club steeped in history and success, and it has led to important questions being asked it seems as to what it will take for them to avoid slipping from the top of the European tree.
It's no surprise that the exits of James Rodriguez and Alvaro Morata have hurt them, as although they were unable to get past being squad players who couldn't secure a permanent spot in the starting line-up, their quality, experience and ability to deliver big moments were key last season.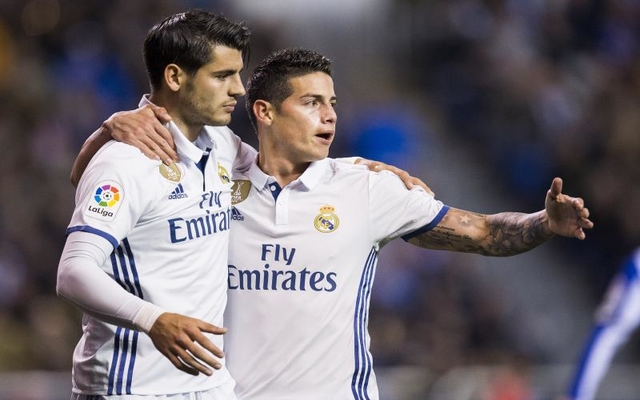 At 26 and 25 years of age respectively too, Madrid parted company with two potentially important pieces for the long-term future and so those decisions should arguably be questioned, albeit Rodriguez is out on loan.
Nevertheless, that's the situation that they find themselves in right now, and Diario Gol have reported that Perez could have a plan up his sleeve if things continue which would see the backbone of the squad strengthened significantly with five marquee names being touted.
It goes along with the club's history of 'Galacticos' signings with the likes of Zinedine Zidane, David Beckham and Luis Figo joining in the past, but the current crop could include Marquinhos, Dele Alli, Paulo Dybala, Harry Kane and David De Gea.
It's suggested that alternatives could be considered to lessen the financial burden it would impose on Los Blancos if they went for all top five targets, but the spending could be spread across January and next summer.
There's no denying it's an ambitious plan, one which is difficult to see becoming reality given the importance of those individuals to their current clubs, but time will tell if Perez can at least secure the signings of one or two new faces to ensure Zidane's side start moving in the right direction again with a long-term plan beyond the likes of Karim Benzema and Cristiano Ronaldo who will soon turn 30 and 33 respectively.