Former Arsenal defender Kolo Toure appeared to tweet some abuse at celebrity Gooner Piers Morgan
It is not yet clear if the Ivorian has been hacked or is genuinely taking aim at Piers
Despite being a vocal Arsenal supporter, Morgan is loathed by a large chunk of the club's fan-base
Former Arsenal Invincible Kolo Toure has become Twitter King for the day with a message for Piers Morgan to 'shut the f**k up' amid a row over the false alarm on Oxford Street this week.
Morgan was tweeting his criticism of Olly Murs for stirring up confusion as police initially treated an incident in the area as though it were a terrorist attack, though it later emerged no shots were fired.
James Blunt then got involved as he effectively labelled Morgan a hypocrite for attacking others over false claims given his history, and now, for no obvious reason, Toure has got himself involved.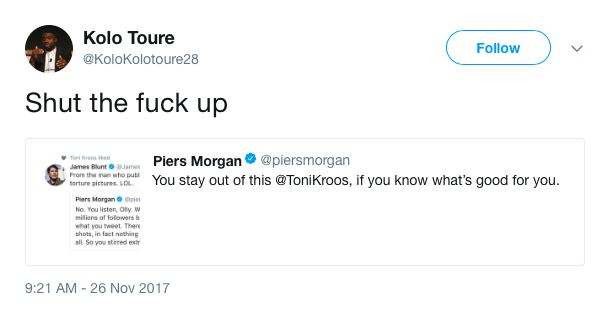 With a screen grab of the exchange between Morgan and Blunt, Toure simply tweeted 'shut the f**k up', presumably at Morgan.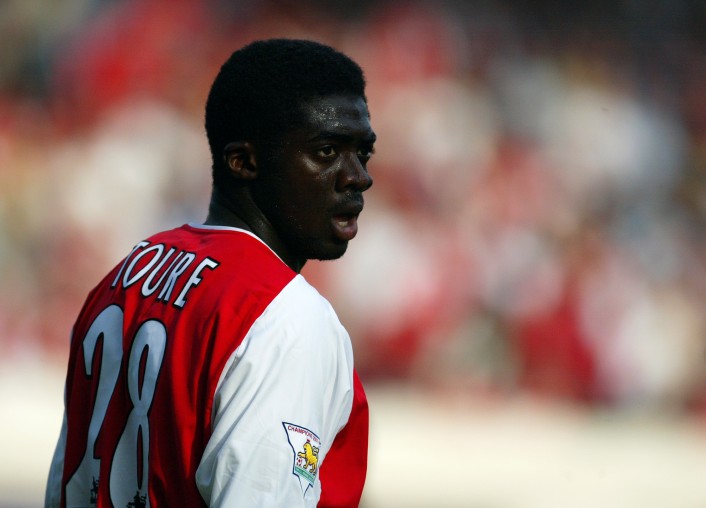 Many fans have responded in agreement with the Ivorian, who as a former Arsenal player could really dent Morgan's ego with this attack.
The Good Morning Britain presenter is yet to respond, but we eagerly await the next chapter of this potentially memorable Twitter beef.
UPDATE: Of course Morgan was going to bite, and responded by trolling Toure about being worse at football than his brother Yaya, currently at Manchester City.
Is this a comeback??! I told you to shut the fuck up https://t.co/CfaOnL0flz

— Kolo Toure (@KoloKolotoure28) November 26, 2017
Kolo has already hit back at that, however, telling Morgan, for the second time, to 'shut the f**k up'.
Grab your popcorn and enjoy, folks.