Manchester United defender Marcos Rojo has joked about training with Zlatan Ibrahimovic
The Argentine defender says Jose Mourinho has to calm the pair of them down
Rojo generally says he enjoys training alongside Ibrahimovic, who recently returned from injury
Manchester United defender Marcos Rojo has admitted he and Zlatan Ibrahimovic have to be stopped from trying to 'kill each other' in training by manager Jose Mourinho.
The Red Devils duo are clearly a competitive pair, and sometimes need reminding to calm down even when it comes to practice drills on the training ground.
Rojo, however, was generally full of praise for the veteran Swedish forward, who is known for being a bit of a character and who only recently returned to action after a lengthy injury.
Ibrahimovic has been out since April with what initially looked a career-threatening injury due to his age, but that obviously hasn't stopped Rojo going in hard on him on the training pitch.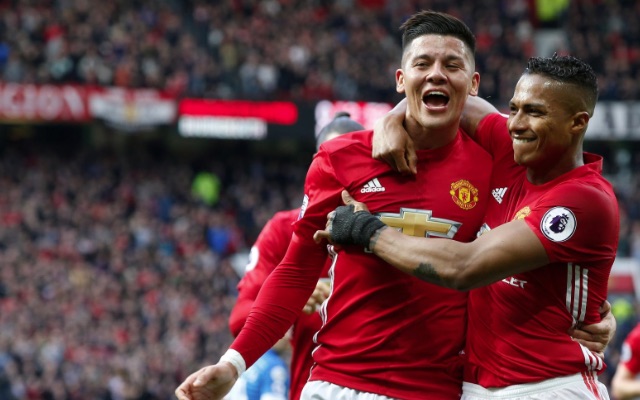 'He (Mourinho) always tells us to play quietly in practice because with Ibra we kill each other with kicks,' Rojo is quoted in the Metro.
He added that Ibrahimovic should come out of international retirement to go to the World Cup, saying: 'He's an amazing character, but for those who don't know him, he seems like a bighead but he's a phenomenon, he's a beast who goes forward and wants to win everything.
'I asked Ibra that now that they are in the World Cup if he would like to go, he says no but I don't know… for me he has to go.'