Former Oasis star Noel Gallagher enjoyed Manchester City's win over Manchester United
The musician is a big City supporter and enjoyed Gary Neville's suffering during the game
Gallagher was on punditry duty as City beat United 2-1 to go eleven points clear
Manchester City super-fan Noel Gallagher enjoyed a laugh at Gary Neville's expense today as his club beat Manchester United in the Manchester Derby.
The 50-year-old former Oasis star is a known celebrity supporter of City, and was on punditry duty with Sky Sports today for the big game at Old Trafford.
Goals from David Silva and Nicolas Otamendi gave the visitors the three points, and Gallagher had the added bonus of witnessing United legend Neville suffering throughout.
Neville, who spent his entire career at United, will have been gutted to see his old side lose such an important game and fall eleven points off the pace in the race for the title.
That just added to Gallagher's experience, however, as he mocked his fellow pundit for his 'breakdown' in City's victory.
'I think my fans would rather go to bed and wake up and have a draw and move on but it's great to be here sat beside a football legend (points to Graeme Souness) – and Gary Neville,' Gallagher is quoted in the Daily Mirror.
'But it's been fascinating watching this fella here having a mental breakdown up until the goal.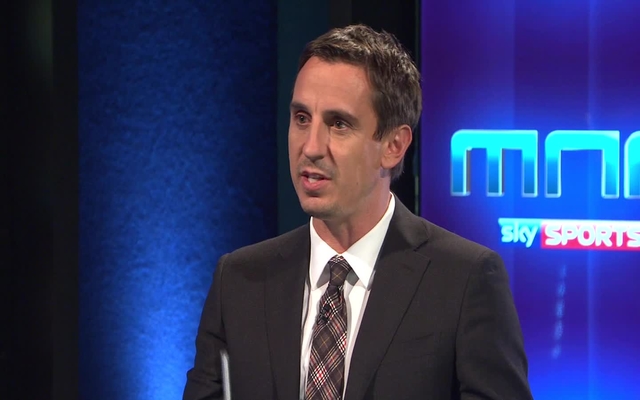 'If I knew when I'm watching from home that this is what he's like when he's watching United, it's going to make it all the more enjoyable for me this season I think.'
Many will feel the title is surely City's to lose now, with Pep Guardiola's men on an extraordinary run of form, winning 14 in a row in the league – a new record over a single season.
Gallagher has certainly been impressed, and added that he feels it is the way City are now grinding out wins that puts them in such a strong position to go on and win the league.
'When we first started the season when we were hammering teams it was great to watch and all that,' he said.
'But I think the last three or four games we've seen something different where they are kind of digging it out in the last minute. We've never seen that City before.'