Arsenal manager Arsene Wenger has provided an update on the Mesut Ozil situaiton
The Gunners boss insists United have not been in touch about signing Ozil
However, the Germany international could still join United on a free transfer next summer
READ MORE: Longest winning streak in football – who can City catch next after overtaking Arsenal?
Arsenal manager Arsene Wenger has insisted that Manchester United have not yet been in touch about sealing the transfer of Mesut Ozil, despite plenty of speculation over the move.
However, Wenger perhaps misses the point that United won't need to approach Arsenal directly if they want to sign Ozil on a free transfer next season, as he'll be out of contract with the Gunners in the summer.
The Germany international is yet to sign a new deal at the Emirates Stadium, despite the Sun recently suggesting a surprise agreement could actually be close.
The Daily Mirror reported earlier in the season that Ozil was confident of sealing his move to United, while another update from the Mirror today claimed Jose Mourinho is prepared to sell Henrikh Mkhitaryan to make room for him.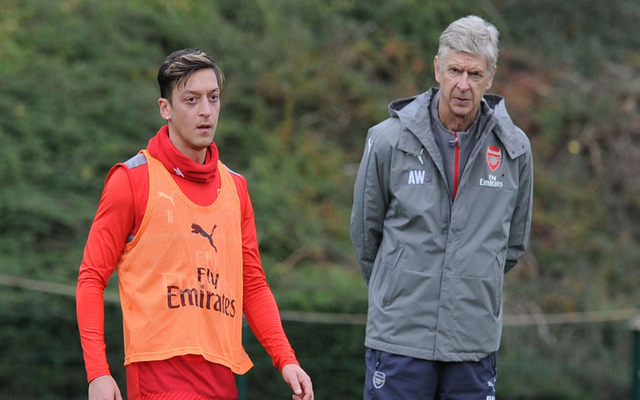 Wenger, however, is perhaps keen to avoid adding to the speculation, so has insisted United haven't asked about signing the 29-year-old, which most likely just means they're not prepared to spend money on him this January and will instead wait until the summer.
Asked about the deal in his press conference today, the French tactician said: 'No. … We have never been approached by Man United (for Ozil).'
Ozil worked under Mourinho at Real Madrid and may feel a move to Old Trafford could get him back to the form he reached in Spain, which is widely viewed as being the best of his career.