Arsenal starlet Reiss Nelson retweeted Vertonghen post to mock Tottenham
It came after their heavy defeat at Man City on Saturday
Nelson quickly undid his retweet, but not before Arsenal fans lauded him for his dig
Tottenham were a distant second best against Man City in their 4-1 defeat at the Etihad on Saturday, and it appears as though some enjoyed what they saw.
Following on from their win over Real Madrid in the Champions League at the start of November, things haven't gone to plan for Mauricio Pochettino and his players.
They've lost to Arsenal and Leicester City while being held to draws by West Bromwich Albion and Watford, although in their defence, back-to-back wins over Stoke City and Brighton appeared to see them get back on track over the last fortnight.
However, that was short-lived as they suffered real disappointment this weekend, lacking any answers against Man City which in turn wasn't enough to avoid a comprehensive defeat.
Spurs are fighting to at least qualify for the Champions League with their Premier League title hopes seemingly over for another season given the 19-point gap between them and City.
In turn, one of the sub-plots will be pipping Arsenal to a top-four finish and ending the season above their bitter rivals, whom they trail by two points after 18 games.
Judging from the retweet below of a popular Jan Vertonghen tweet from 2012 before he joined Tottenham, which reads: "Little update, we are s***!!!", Reiss Nelson certainly enjoyed watching Spurs come up short against City.
Evidently someone had a word with him to avoid causing any controversy or attracting any unwanted attention to himself and the retweet quickly disappeared from his feed.
Much like many Arsenal fans though, it appears as though the 18-year-old revelled in their loss and it's made him quite the popular figure with supporters based on the reaction below who caught the retweet before it disappeared…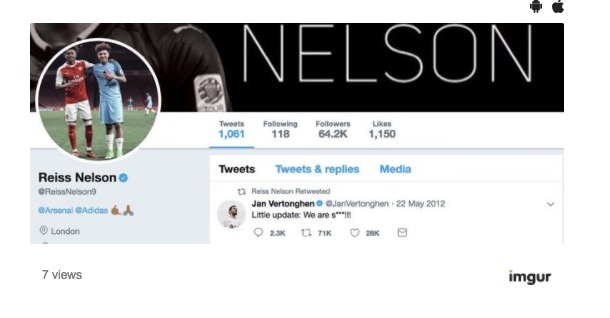 Lmao @ReissNelson9 is a savage for RTing this.. https://t.co/10VwbAC8wV

— Saul (@Fitz958) December 16, 2017
Whoops someone's going to get a bollocking!!! ???

— Peter. (@Peterspint1664) December 16, 2017
Already better then walcott and then he does this?? ledge @ReissNelson9 #afc#arsenal https://t.co/HftXGtEalJ

— Rob (@RobAfc91) December 16, 2017
@ReissNelson9 Just retweeted this tweet! FUCKING Legend??? https://t.co/jA9My9aBee

— Callum (@Im_COB) December 16, 2017
REISS NELSON RETWEETED ??? https://t.co/aKhakwKzRK

— dyl (@SendDjourous) December 16, 2017
Ahahaha @ReissNelson9 you SAVAGE! ?

— Steven Fentiman (@StevieBoy777) December 16, 2017
Cheeky @ReissNelson9 retweeted this ?? https://t.co/5iU4fDsIMQ

— Abdullah (@eggovic) December 16, 2017