A key Manchester United star limped out of Manchester United's clash with West Brom today as the Red Devils won 2-1.
After the match Jose Mourinho confirmed that Manchester United's captain Antonio Valencia had suffered a serious hamstring injury.
This could be the final nail in the coffin for Man United's title charge.
Antonio Valencia limped out of Manchester United's win over West Brom today with Jose Mourinho later confirming the injury to the Red Devils captain.
Valencia left the field after dropping to the ground clutching his leg. The Ecuadorian star was replaced by Marcus Rojo on the 66th minute.
With Eric Bailly having also sustained a serious injury last week United could now be left with seriously limited options within their back four.
The Sun have reported Mourinho's confirmation of Valencia's injury quoting him as saying, ""It is an injury of accumulation of fatigue. It is a muscular one. Hamstring. Big, small, medium, I don't know."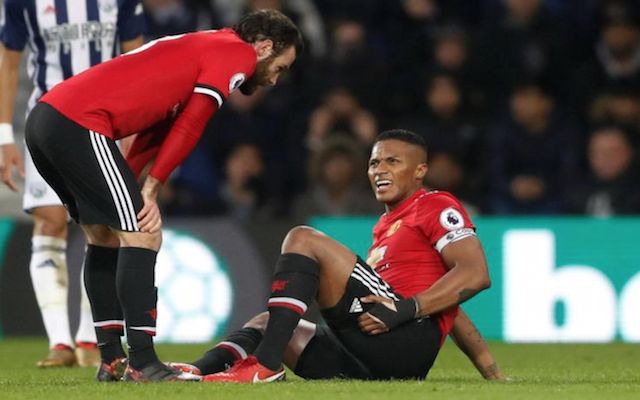 The suggestion from Mourinho is that Valencia's injury is a result of a packed fixture list with constant games having severe consequences on the star.
While Luke Shaw has recently started to reestablish himself as a key full-back for Man United, the Reds could still be extremely limited in the full-back department if Valencia is out for a prolonged period. Italian Matteo Darmian would be the likely choice of cover for Valencia at right-back but the star has been unable to cement a place in Mourinho's plans over the last two seasons.
Despite United's win today they still sit eleven points behind Manchester City in the league. If Valencia is out of action for the christmas period it could be the start of the end for Man United's title charge.