Philippe Coutinho continues to be linked with a transfer to Barcelona
Liverpool rejected three bids for the Brazil international during the summer
Luis Suarez has admitted top players like Coutinho are welcome at Barca
Barcelona striker Luis Suarez has spoken of his admiration for Liverpool playmaker Philippe Coutinho in a latest attempt to woo his former team-mate into a transfer to the Nou Camp.
The South American duo shone as a partnership during their time together at Liverpool, and Suarez admits Barca are always chasing top players like Coutinho.
The Uruguay international also spoke fondly of another rumoured target in the form of Atletico Madrid forward Antoine Griezmann.
Liverpool fans, however, will be concerned at seeing Barca players talking about Coutinho again, following Andres Iniesta's quotes on the Brazilian last week.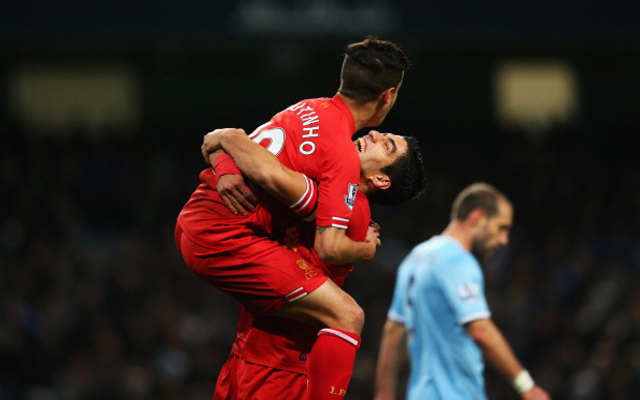 Suarez ended up leaving Liverpool for Barcelona in the summer of 2014 and enjoying tremendous success with the Catalan giants, which will likely only motivate Coutinho to follow in his footsteps.
'Both Griezmann and Coutinho are elite players that are playing at the top level. They are where they are for a reason,' Suarez is quoted in the Liverpool Echo.
'They're both young and have long careers ahead of them. And Barca always want the best players.'
BBC Sport reported that Liverpool turned down as many as three bids from Barcelona for Coutinho in the summer transfer window, but it remains to be seen if they can continue to hold on to the 25-year-old.