Manchester City's French Twitter account was caught trolling Marouane Fellaini
City tweeted a picture of Leroy Sane in the fog urging followers to guess who it was
Someone replied Fellaini before City brutally took the Belgian apart with their reply
Manchester City have deleted a tweet brutally taking the p*** out of Manchester United midfielder Marouane Fellaini after an exchange with a fan.
The French version of City's Twitter account posted a picture of Leroy Sane in the fog as part of a game for followers to guess the identity of the player.
Of course, Sane's haircut rather gave it away, though some clearly noticed the similarity between the German's hairstyle and that of Fellaini at United.
This promoted one user to guess that it was Fellaini in the picture, only for City to reply: 'No, he is a football player.'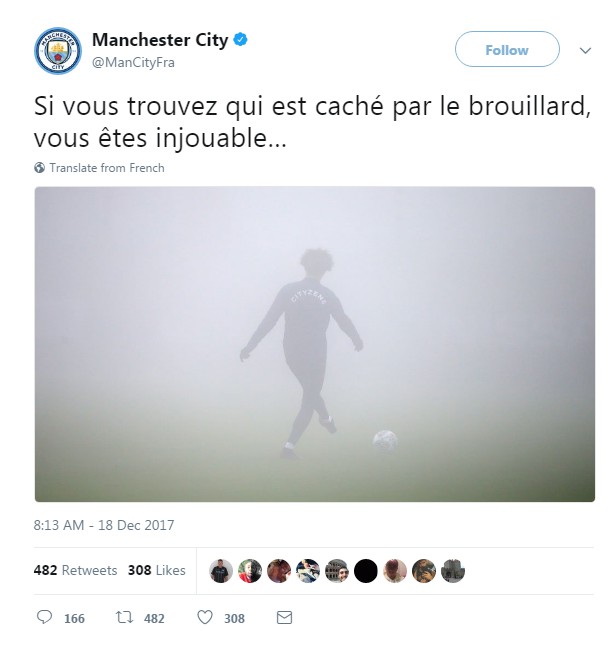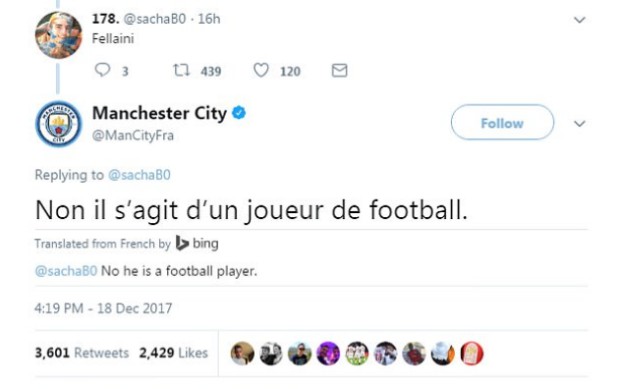 The tweet has since been deleted, with someone clearly feeling this bit of trolling went a little too far.
City players were involved in a bad-tempered bust-up with United after the recent game at Old Trafford, according to the Guardian.
Later, City players were seen trolling the Red Devils again after their win over Tottenham, singing 'park the bus' in reference to their rivals' defensive playing style under Jose Mourinho.