Alex Oxlade-Chamberlain has impressed this former Liverpool man
The versatile midfielder joined the Reds from rivals Arsenal this summer
Jamie Redknapp believes he's improved under Jurgen Klopp
Liverpool midfielder Alex Oxlade-Chamberlain has been praised by former Reds ace and pundit Jamie Redknapp for his big improvement under Jurgen Klopp.
The England international struggled to live up to expectations during his time at the Emirates Stadium, moving around a number of different positions and failing to settle into a role.
But it seems Arsene Wenger's loss is proving to be Klopp's gain as Oxlade-Chamberlain starts to look more settle in at Liverpool.
The 24-year-old was on the score sheet for the Reds yesterday in their 5-0 thrashing of Swansea City, and it's fair to say Redknapp is delighted with the progress he seems to be making at his new club after things went a little stale for him in north London – as he feels it has for a number of their players.
'I looked at him at Arsenal and it was like he was treading water and going nowhere, but under Jurgen Klopp I am seeing a completely different player,' Redknapp is quoted in the Metro.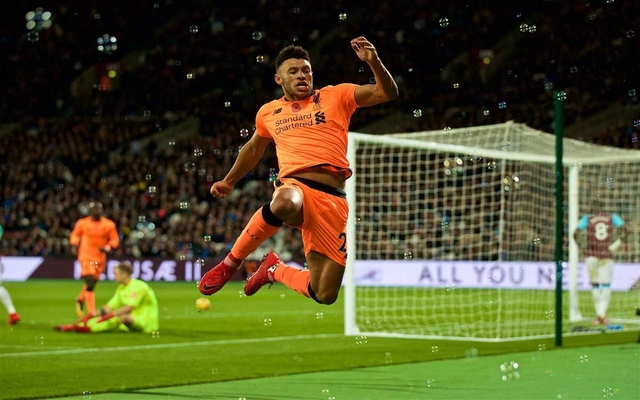 'I am seeing he is fit, with a great attitude and wanting to win tackles.
'It's probably unfair to question how he was coached under Arsene Wenger but I watched him play and I didn't feel he developed for years. It looked like he was standing still. I feel a lot of players at Arsenal are in a similar situation.
'Look at how much he is improving, he has got fitter, stronger, and he is a different player than he was at Arsenal.'
Arsenal fans will certainly be frustrated to see another player leave the club and go on to achieve better things elsewhere as it seems Wenger has once again got it wrong with the development of a big talent.