Manchester City star Vincent Kompany has a message for his team-mates
The defender still remembers Manchester United's collapse in 2011/12
City have a huge lead at the moment but Kompany remains cautious
Manchester City defender Vincent Kompany has warned his team-mates about how Manchester United once let the Premier League title slip from a commanding position.
Pep Guardiola's side look like running away with the title at the moment and can go 15 points clear at the top if they beat Newcastle this evening.
Still, Kompany remembers City winning their first Premier League title back in 2011/12 thanks to a late collapse by United, who had been eight points ahead with just six games to run that term.
City pipped them on goal difference in dramatic fashion on the final day of that season, so Kompany says he continues to remind the club's players just how quickly things can change.
'I draw on that, I don't know if everyone remembers, but with six games left we were eight points behind,' Kompany is quoted in the Telegraph.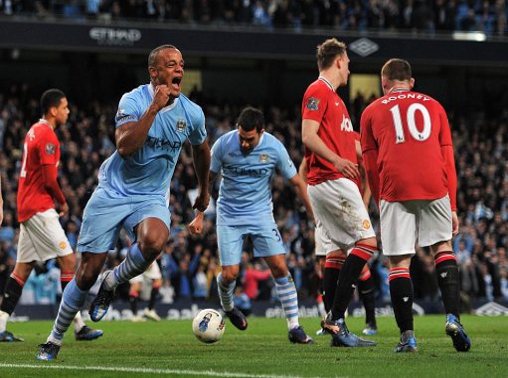 'That's why I'm probably always the first guy to come in and say, "No guys, we can't really say …"
'I really don't want that, so we push and push and push and no-one has the right to let their performance down and let their guard down.
'We have to keep it going. When you are on such a run you want to put it aside straight away and think about the next one, because you know how little it takes to lose that special feeling.'
Even if he is no longer a regular starter, Kompany clearly continues to be an important figure behind the scenes, with his experience and winning mentality a great thing to have on the training ground and in the dressing room.