Chelsea fans look to have well and truly disowned Jose Mourinho
The Manchester United boss launched a stunning attack on Antonio Conte
Mourinho seems to have killed his reputation with his former club
Chelsea fans look to have finally disowned their former manager Jose Mourinho once and for all after the Manchester United boss' attack on Antonio Conte.
The pair have been involved in a war of words through the press in the last few days, with Mourinho appearing to hit out at Conte's infamous touchline antics by defending himself for not behaving like a 'clown'.
The Italian responded by suggesting Mourinho should look at his own behaviour, and that the Portuguese seems to have forgotten many of his own similar antics in the past.
Finally, the Red Devils boss hit back again by mentioning Conte's involvement in a match-fixing scandal during his time in charge of Siena, where he was accused of failing to report match-fixing that had taken place, according to the Guardian.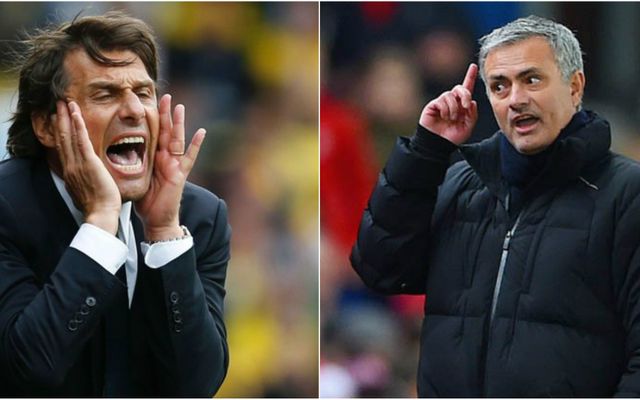 BBC Sport have detailed the lengthy back and forth between the two managers, but one thing's for certain now and that's that Chelsea fans have had enough of Mourinho's games.
The 54-year-old may be the most successful manager in their history, but he seems to have badly tainted his reputation at Stamford Bridge now…
Mourinho having the front to say Conte got done for match fixing.

He hasn't. It got laughed at.

The man is dead to me.

— Mr Chelsea ™ (@MrNH11) January 6, 2018
Am I the only Chelsea fan who now seriously doesn't like Jose Mourinho anymore despite all he's done? @Chelsea_HQ

— The Poet? (@OseiEnglish) January 6, 2018
Mourinho has lost all my respect. U don't make fun of someone's difficult times. They were only allegations that turned out to be false, but u mourinho abused a woman verbally. If anyone is a better human being it's Conte. #chelsea #Conte #Mourinho #ManchesterUnited https://t.co/QaWcDIE7EG

— Pratul Karki (@KarkiPratul) January 6, 2018
When Jose mourinho left, i was angry he chose utd instead, yet i find reasons to still like him, but picking up unnessery fight with his former club & Antonio conte has given me more reasons to hate him.

— :CHELSEA MAYOR: (@larrymikelcfc1) January 6, 2018
No doubt Mourinho felt the same way about match-fixing allegations against him from his Porto days, but that sad person does not care. He is beyond help. The man that arrived at Chelsea in 2004 is long gone. https://t.co/rkbpbnaGXU

— Grant James (@grantdesmidt) January 6, 2018