Henrikh Mkhitaryan has not even made the bench for Manchester United vs Stoke
Rumours have suggested the Armenian is a transfer target for Arsenal
Twitter is now awash with people expecting Mkhitaryan to leave for the Gunners
Manchester United manager Jose Mourinho has not included Henrikh Mkhitaryan in his squad to face Stoke City tonight, fuelling speculation he could be set for a transfer to Arsenal.
The Armenia international hasn't been a regular for the Red Devils for much of this season, but has previously shown he could be a quality signing for a top club.
Arsenal could do with a player like Mkhitaryan if they lose contract rebels Alexis Sanchez and Mesut Ozil, both of whom are due to be free agents at the end of the season.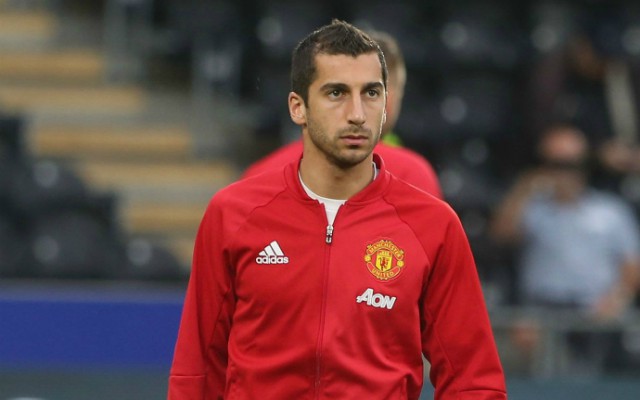 Reports from the Metro today suggested Mkhitaryan wasn't interested in a move to Arsenal, but his surprise absence from Mourinho's squad today surely suggests something is amiss.
Arsene Wenger would surely offer the former Borussia Dortmund man the playing time he wants, so a switch to the Emirates Stadium would make a lot of sense for him personally, even if the club aren't in the strongest state at the moment.
This latest development has certainly raised one or two eyebrows anyway…
Mkhitaryan was with the squad today and Mourinho said on Friday he would be involved. Absence will only fuel speculation he's on his way to Arsenal.

— Rob Dawson (@RobDawsonESPN) January 15, 2018
Jose yesterday: "Mkhitaryan, he played the last match in the cup and probably will play the next one."

Today: *Not in the squad*

Off to Arsenal?

— Neeks Sports (@NeeksSports) January 15, 2018
Goodbye Mkhitaryan, will miss him. Thanks for carrying us in Europa and the scorpion kick. I think he'll do well at Arsenal in all honesty.

— Josh (@ElDiabloRojo__) January 15, 2018
Mkhitaryan is not in the squad for tonight's game vs Stoke

Maybe he is off to arsenal

— Reuben James (@_ReubenJames) January 15, 2018
Fuck sake not as funny taking Sanchez off Arsenal now if they're getting Mkhitaryan ? Already know he's gonna run riot for them too ? Love Jose but the man is a stubborn gobshite at times

— Ryan Keogh (@RKeogh5) January 15, 2018
Mkhitaryan doesn't make the team for tonight's game. Maybe going to Arsenal ? pic.twitter.com/XDek9kWgV6

— Coup Vet (@Pablo_di_Don) January 15, 2018
You're laughing, but that confirms Sanchez to us, and Mkhitaryan to @Arsenal Go smash it Mkhi, not against us though, I know You're Gonna be a Star at Arsenal, so bound to happen @HenrikhMkh pic.twitter.com/dmGWNOfnD2

— Daniel ? (@LxbilePogba) January 15, 2018