Alexis Sanchez to Manchester United hint from Instagram activity
The Arsenal forward responded to a goodbye message from super-fan Troopz
Sanchez didn't give much away, but wouldn't deny he was off
The Alexis Sanchez to Manchester United transfer saga took another twist as the Arsenal forward responded to a goodbye post on Instagram from super-fan Troopz.
Troopz is a regular on the popular YouTube channel Arsenal Fan TV, and he uploaded a picture of himself with Sanchez as they bumped into each other in London yesterday.
Gianluca Di Marzio reported around that time that talks were progressing as Sanchez looked to be nearing a move to Manchester United, though there's still been no official announcement.
The Chile international has been a big player for Arsenal since he joined from Barcelona in 2014, and Troopz paid tribute to him despite it looking highly likely that he's on his way to one of the Gunners' major Premier League rivals.
Jose: "Nothing new, I think clearly everybody knows that we are there and especially when @Arsenal manager speaks so clearly like he did there is no point in trying to hide or deny but not done at all, so in this moment Mkhitaryan our player, Sanchez an Arsenal player."

— Simon Stone (@sistoney67) January 19, 2018
Speaking at his press conference today, United manager Jose Mourinho was quoted by BBC journalist Simon Stone as saying nothing was complete yet, but Sanchez's response to Troopz suggests he may well think it is.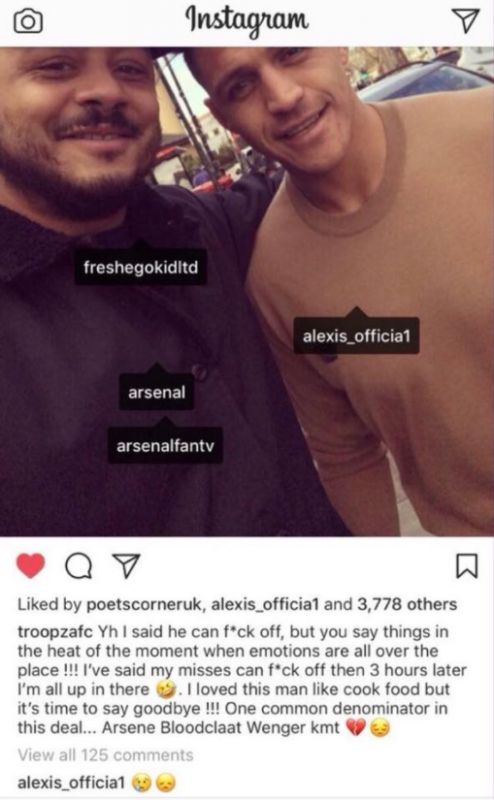 Writing 'it's time to say goodbye', Troopz admitted he 'loved this man', prompting Sanchez himself to 'like' the post and reply with two sad emojis.
Fans will now just want the whole saga to be over after Sanchez's future has dominated the headlines for months as he's stalled on signing an extension to the contract that would see him become a free agent in the summer if he remained at Arsenal.
While there's nothing conclusive in Sanchez's response, he isn't denying an imminent exit and his 'liking' of the post suggests he acknowledges some truth in it.