Tottenham fans have encouraged a star to join Spurs after he vented his frustrations at his current club.
Richarlison Andrade tweeted an angry emoji after the news broke this afternoon that Watford boss Marco Silva had been sacked.
The Brazilian is a longterm target for Tottenham despite only arriving at Watford in the summer for £13m.
Tottenham fans want Richarlison Andrade to join Spurs after the Brazilian vented his frustrations at his current club Watford in an angry tweet.
Earlier today the BBC reported that Marco Silva had been sacked by Watford after a string of bad results.
It was viewed unfair by some with Silva's side sitting just 10th in the Premier League after a superb start to this season's Premier League campaign in which they took three points off the likes of Arsenal.
Richarlison took to twitter to express his frustrations at the news that Silva had been sacked and Spurs fans were quick to encourage the Brazilian to now pursue a move to North London.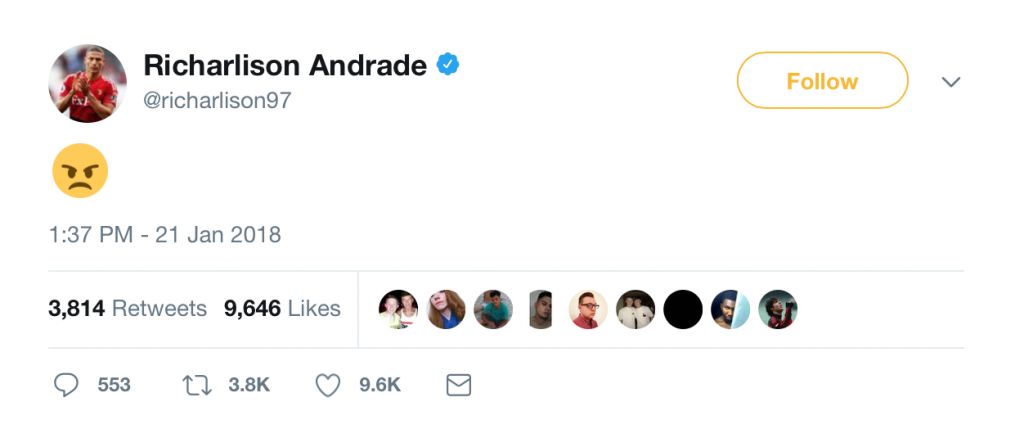 Come to Spurs bro

— Bud (@Aldertonghen_) January 21, 2018
Come spurs g

— ?? (@MauricioMagic) January 21, 2018
A report from the Evening Standard revealed in November that Tottenham were eying a move for Richarlison who arrived from Fluminense last summer for £13m.
The Brazilian is just 20-years-old but has scored five goals already in his debut season in the Premier League since singing from Brazilian side Fluminense.