Mesut Ozil has got Arsenal fans excited with his latest tweet
The Gunners playmaker has had his logo put up in his home
Ozil used hash tags referring to London as his home amid talks he could stay at the Emirates Stadium
Arsenal fans are getting a little excited by Mesut Ozil's latest tweet as they believe he may be hinting he's set to sign a new contract at the Emirates Stadium.
The Germany international is heading towards being a free agent in the summer but there is growing talk that he could end up penning a new deal with the Gunners.
The Sun recently claimed that both Ozil and Jack Wilshere are close to extending their stays with the club, and that seems to have given fans a new sense of belief.
??? #myhome #M1Ö #logo #London pic.twitter.com/dwLFbRVHDZ

— Mesut Özil (@MesutOzil1088) January 22, 2018
While not every single user responding to the post was completely confident, a few believe Ozil is hinting that London is his home with the wording of his tweet.
Showing off his new personalised logo that he's had put up, the 29-year-old included the hash tags: #myhome and #London.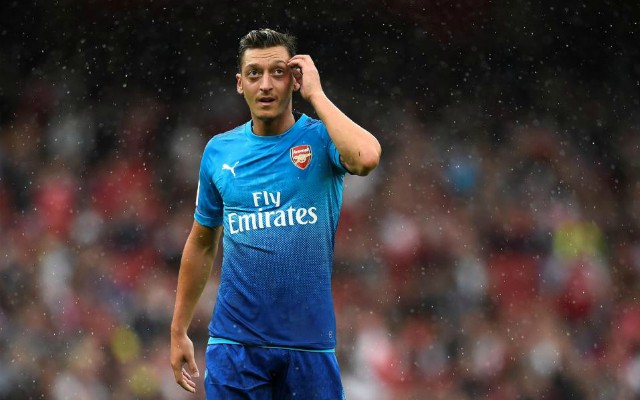 While he may just be enjoying a bit of decorating in a home that he won't necessarily be putting on the market even if he leaves, there's some logic in those taking this as the player expressing his love of living in the capital and settling in for the long-term.
HES STAYINGGGGGGGG pic.twitter.com/6OhYY8oWga

— P¹? (@RedLacazette9) January 22, 2018
Mesut signs pic.twitter.com/ePV0ZlEo1w

— Thierry's QUEEN (@hawt_red) January 22, 2018
Yes. You belong here idolo

— ? (@naitology) January 22, 2018
OMGGGGGGG YOURE STAYING

— S™ (@arsenalcrest) January 22, 2018
He's staying!?? pic.twitter.com/XE5dHxKYjz

— Dawit Teklu (@teklu_dawit) January 22, 2018
LONDON HES STAYING

— Seif? (@RabonaRamsey8) January 22, 2018
you ain't going nowhere babe

— Deen (@woodeenho) January 22, 2018