Some Arsenal fans believe the club may have sneaked in an announcement of the Pierre-Emerick Aubameyang transfer in their welcome video for Henrikh Mkhitaryan.
The Gunners confirmed the signing of the Armenian playmaker from Manchester United today, with Alexis Sanchez heading to Old Trafford in the swap deal.
RMC Sport report that talks are set to be concluded in the coming days as Arsenal look to bring in Aubameyang from Borussia Dortmund, with the Daily Express suggesting they're close to meeting the Bundesliga giants' asking price.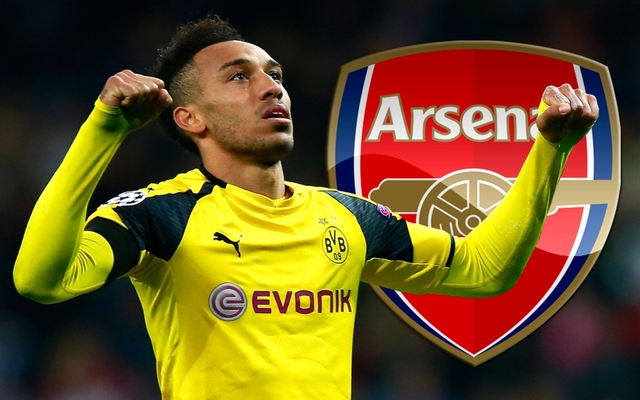 The Gabon international seems an ideal signing to replace the departing Sanchez, having shone in the German top flight in recent seasons with 141 goals in 212 games in all competitions for BVB.
Mkhitaryan notably played alongside Aubameyang at Dortmund, and Arsenal may now be planning to get their new recruit to welcome in their next one.
In the video below, at the 1.10 mark, Mkhitaryan says what sounds a lot like 'Pierre, you wanna come here?' in what could be a rehearsed transfer announcement for when the deal is done.
Some fans have got rather excited about it, watch for yourselves and decide if there's anything to it…
Mkhitaryan is actually going to announce Aubameyang, how on earth did someone clock that on a video ?

— MR DT © (@MrDtAFC) January 22, 2018
Maximum volume you can hear it clear as day. Gassedddddd. pic.twitter.com/1rRRGnn8AK

— Manny ?? (@Blacazette) January 22, 2018
VOLUME UP: Does Mkhitaryan say "Pierre you wanna come over here?" #afc pic.twitter.com/b6Hc4mq50t

— Arsenal Talk (@ArsenalTalk24) January 22, 2018
If they announce Aubameyang with "Yo Pierre you wanna come out here?" I'll cry

— ray (@farfromray) January 22, 2018
If Arsenal announce Auba with Mkhi saying 'Yo Pierre, you wanna come out here?' And Magnolia starts playing, I will lose my shit.

— ? (@Akhazette) January 22, 2018
"Yo Pierre you wanna come out here" hear that @Aubameyang7 https://t.co/qD2FOly5Lz

— Taufik (@taufik_fik96) January 22, 2018
UPDATE: Another user has tweeted that Arsenal's official account actually responded to people pointing out the video by simply replying 'ffs' before deleting the tweet.
@MakhiaveIIi tweets this, where you can clearly hear Mkhi say "Yo Pierre, wanna come out here?" to the camera.

Official Arsenal account reply "Oh ffs"

Various people grab screenshots of it before it's swiftly deleted.

Arsenal twitter never fails pic.twitter.com/HPizFan6Gn

— ? (@Kolasinax) January 22, 2018