Chelsea legend Frank Lampard has some advice for his old club
The former Blues star says the club must spend to keep Eden Hazard and Thibaut Courtois
Lampard has stressed the importance of matching big players' ambition
Chelsea legend Frank Lampard has fired a warning to his old club about potential transfer departures of big names such as Eden Hazard and Thibaut Courtois.
The London Evening Standard reports that both players remain targets for Real Madrid and that they are yet to commit to new contracts at Stamford Bridge.
Chelsea would not want to lose two such important players, but Lampard believes it's essential his old side get their act together in the transfer market.
Antonio Conte has seemed intent on signings this January, but many of his recent purchases have been flops and speculation this winter has seen them linked with underwhelming targets such as Andy Carroll and Peter Crouch, as per the Times.
Lampard says Chelsea have to match big players' ambitions, as they did when he was at the club and high-profile arrivals like Michael Ballack kept him on his toes.
'Great players such as Hazard and Courtois will always be looked at by Real Madrid, so to protect yourself you need to get them on long contracts,' Lampard told the Evening Standard.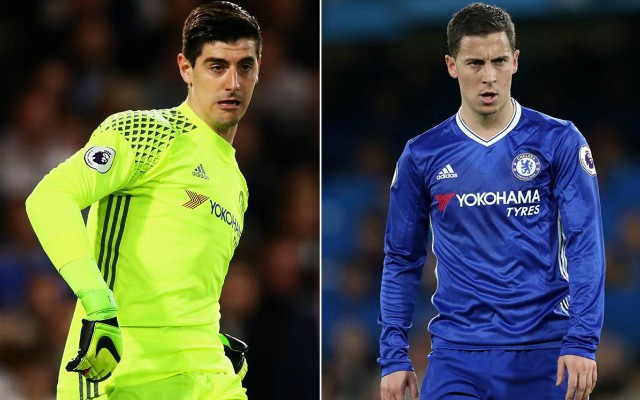 'With the kind of money being spent elsewhere, Chelsea have to keep moving forward and recruiting new talent to play around them.
'The club can't lose what they've got. Hazard is the main person there. He is 27 and a player of his ability has his prime years ahead of him. He will want to challenge for the Champions League but the club have to match that ambition as well.
'When Chelsea signed Ballack, it pushed me on. It was great we were bringing in a top player but I also knew I had to fight for my place.
'As a player you must concentrate on yourself first and foremost. But you want to see the club improving.'