Arsene Wenger has criticised Nacho Monreal for his role in Arsenal's defeat
The left-back's throw-in ultimately led to Petr Cech's error and Swansea's second goal
Arsenal were beaten 3-1 and Wenger wasn't happy with Monreal's decision-making
Arsenal manager Arsene Wenger singled out Nacho Monreal for criticism after last night's embarrassing 3-1 defeat to Swansea City in his post-match assessment.
The Gunners took the lead through Monreal in the first half, with the Spaniard making a great run forward from left-back to finish off a sublime pass from Mesut Ozil.
However, things turned sour for the 31-year-old later in the game as he made a bizarre decision to allow the ball out for a throw-in when there appeared no need.
Wenger says he was unhappy with Monreal's decision, which ultimately led to him playing the ball to Shkodran Mustafi, whose poor pass put Petr Cech under pressure as his mis-kick found Jordan Ayew, who promptly made it 2-1.
Whilst not naming Monreal, it's clear the Frenchman was unhappy with the decision to go for a throw-in in that situation when the defender could easily have carried on playing.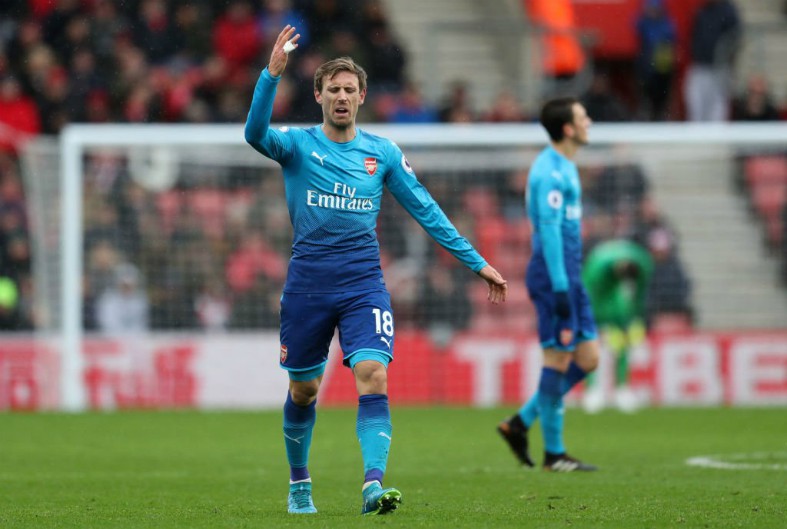 'I was angry because there was no need to let the ball go out in the throw-in,' Wenger is quoted in the Metro.
'We had the ball and we could play straight away. When you have a throw-in for you it's nine against 10 on the pitch, why should you put a handicap like that on your own team?
'We can play the ball and attack straight away.'
Arsenal's poor result leaves them 6th in the Premier League, with Liverpool winning on the same night to go eight points ahead of them in the race for fourth.
Having missed out on a Champions League place last season, Wenger's side face an uphill battle to get back into the competition again this term.