Mesut Ozil has sent a message to Arsenal fans after signing a new contract
The Germany international's new long-term deal was confirmed today
Ozil, 29, has explained why he took so long to decide to put pen to paper
Arsenal star Mesut Ozil has explained why he took so long to sign a new contract with the club amid rumours he was a transfer target for Manchester United.
The 29-year-old has been one of the Gunners' most important players since joining the club from Real Madrid back in 2013, and it will be music to the ears of their fans that he's staying put.
Arsenal lost Alexis Sanchez to rivals Manchester United this January and the Independent recently claimed Ozil was still on their agenda as well.
This followed previous speculation from the Daily Mirror that Ozil was confident United would be his next move and that he'd even been open about that with those close to him.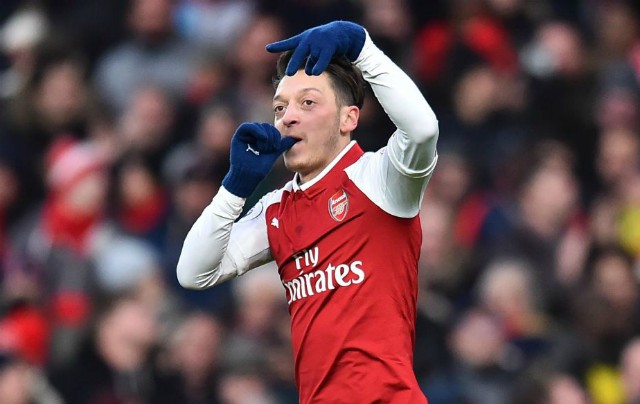 The Germany international has, however, now committed his future to Arsenal with what their official site is calling a long-term deal to cap a fine January for them considering they lost big names in Sanchez, Olivier Giroud and Theo Walcott.
In their place Pierre-Emerick Aubameyang and Henrikh Mkhitaryan have joined, putting Arsene Wenger's squad in good shape for the second half of the season.
Ozil's new contract is the latest boost for Arsenal, but he has suggested he may have been tempted by the reported offer from United as he explained he really had to take his time before finally putting pen to paper.
'It's been one of the most important decisions of my footballing career and that's why I had to think hard and talk with everyone who's important to me,' Ozil said on Instagram.
'Good things take time! In the end I let my heart decide. As I always said, I feel at home here and I'm highly motivated to achieve big things in the next few years. Once a Gunner, always a Gunner.'