Premier League legends name their top four picks for this season
Both Rio Ferdinand and Frank Lampard made the same prediction
The duo tip Arsenal and Liverpool to miss out on Champions League places
Rio Ferdinand and Frank Lampard both gave identical top four predictions last night after midweek games in the Premier League gave an indication of how the likes of Manchester United, Chelsea, Arsenal and Liverpool are doing.
Tottenham put themselves back in contention for a top four place with a well-deserved 2-0 victory over United at Wembley, while Liverpool picked up a win over Huddersfield Town the night before.
Arsenal and Chelsea both suffered shock defeats to Swansea City and Bournemouth, respectively, but both Ferdinand and Lampard believe the latter will still have enough in them to finish in the top four this season.
Tottenham's win also seems to have persuaded the pundits that they could overtake Liverpool, who currently sit third after a strong run of form in the league.
Still, both Ferdinand and Lampard agree that the Reds have their issues and could drop out of the running between now and May, while barely a word was said on Arsenal, who sit in 6th after a dismal campaign and the departures of some important and experienced players in the January transfer window.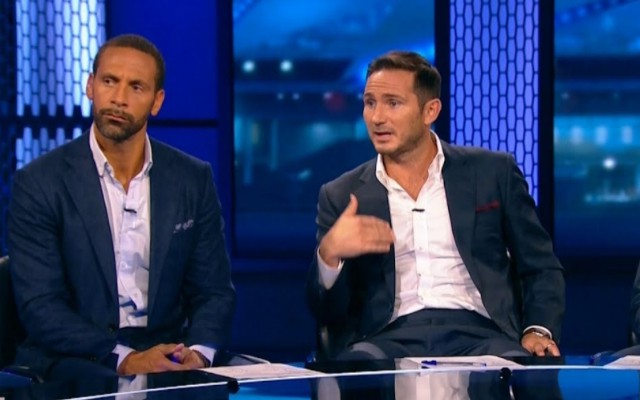 'I'd go Man City, Manchester United, Spurs and I think I'll put Chelsea in there,' Ferdinand was quoted in the Metro.
'The Eden Hazard effect I think if he continues to perform, if he stays fit I think he'll carry them (Chelsea) into the top four.
'I think defensively, goalkeeper, I don't think they (Liverpool) are strong enough at the moment. Going forward they're fantastic, great to watch, I just think they won't have enough defensively.'
Lampard added: 'Man City are a shoe in, we can forget about them. Manchester United, Chelsea, Tottenham.
'Definitely they (Liverpool) haven't dealt with their weaknesses and lost Philippe Coutinho as well.'