Liverpool manager Jurgen Klopp has explained his lack of signings this January
The Reds had plenty to spend after selling Philippe Coutinho to Barcelona
Thomas Lemar and Naby Keita were among players linked but neither ended up joining
Liverpool manager Jurgen Klopp has explained his lack of activity in the January transfer window despite raising £145million transfer funds from Philippe Coutinho's move to Barcelona.
The Reds looked in need of more additions up front after the departure of the Brazilian playmaker, who was one of the club's most important players in recent years.
Liverpool only brought in Virgil van Dijk from Southampton to bolster their defence, while youngster Tony Gallacher also joined from Falkirk later on to go into their development squad.
The Daily Mirror claimed they were close to agreeing a deal to sign RB Leipzig midfielder Naby Keita this January, as Klopp seemingly looked to bring the player in ahead of a move that has already been scheduled for the summer, according to BBC Sport.
Yahoo Sport also linked Liverpool with Monaco winger Thomas Lemar, who would have been absolutely ideal to replace Coutinho, but their report stated that they had not met the Ligue 1 giants' £87million asking price for the player, despite agreeing everything with him personally.
Klopp's quotes in the Daily Mail today now suggest the German was a little concerned about paying over the odds for players in the middle of the season, preferring to wait until the summer.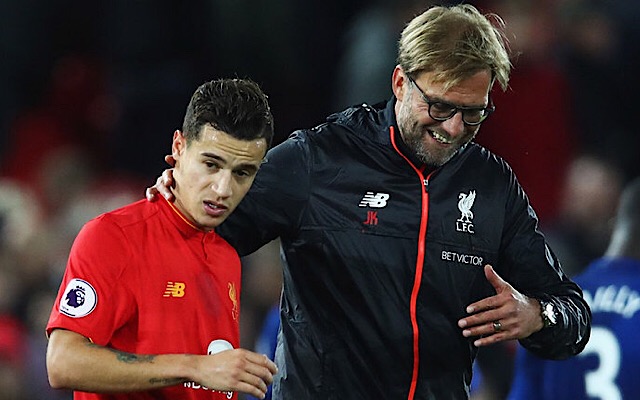 'Yes, we could have done something,' Klopp said. 'But we need really the right thing.
'The right thing now, you don't get. The 100 per cent right thing, only for completely crazy money that really makes no sense. I'm not even sure that would work. And in the summer it looks different.
'That's how it is. To do something just to have any solution that makes no real sense, to be honest.
'People obviously ask 'bring him in' because someone is injured and you need somebody else, but then the other one is coming again and you weaken both or the third one, it makes no sense.'