On talent alone, Mesut Ozil is undoubtedly one of the best players at Arsenal. He hasn't always been as influential as desired, but he's got a new contract now.
As reported by The Guardian, it has been claimed that he has signed a new long-term deal at the Emirates which will see him earn a staggering £350,000-a-week.
SEE MORE: Arsenal news: Wenger on possible signing, issues Ozil challenge and explains unpopular exit
Given his creative qualities, experience in the Premier League and form over the years, he is undoubtedly a pivotal part of Arsene Wenger's plans moving forward.
Especially having now added pace, goals and creativity around him with Henrikh Mkhitaryan, Alexandre Lacazette and Pierre-Emerick Aubameyang, Ozil should ultimately now flourish and at 29, this is the perfect stage of his career to really become an influential symbol at Arsenal.
However, some Gunners fans have been left shocked by the way in which Ian Wright has reacted to the news that Ozil has signed a renewal, as seen in the image below taken from Instagram when he was asked about the deal.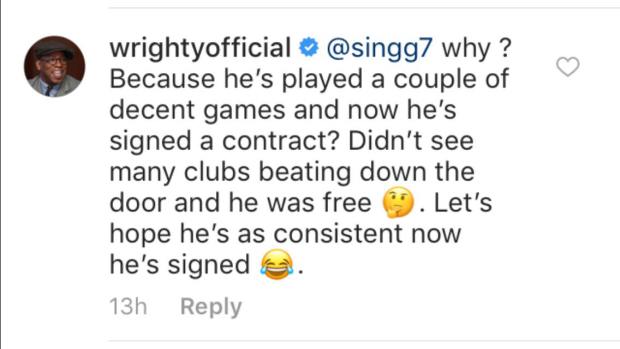 That's not quite the reaction that many were expecting, especially as shown in the tweet below, that Wright was in support of the German international penning a new agreement not so long ago.
It seems some of the Arsenal faithful think that Wright has a personal issue with Ozil, but that won't matter too much to the latter as he's now got a new contract, is a focal point in the side and ultimately in a good place to challenge for major honours.
If the Gunners can add defensive solidity to the team moving forward as that remains their glaring weakness as evidenced by their defensive record in the Premier League so far this season, then all concerned will surely be hopeful that it leads to success on the pitch which is the most important thing.
Özil can't win with Ian Wright. pic.twitter.com/4dZxJqtjlD

— Dan Critchlow (@afcDW) February 1, 2018
It's unbelievable that one of our former players behave like this. Losing it with Wright I tell you.

— #Özil2021 (@andrewafc_) February 1, 2018
Oh wow.

— Anita (@arsenaloFka) February 1, 2018
His hatred for Özil is so bizarre

— Will (@ConvertedWinger) February 1, 2018
Ian Wright is so shameless. Can't stand the guy anymore

— P¹? (@RedLacazette9) February 1, 2018
All the bitterness since Ozil said so called legends should shut up and start supporting

— .. (@al9_aca) February 1, 2018
I am going to ignore Henry and Wright on social media and try to look at them like the legends they are. This is hurting my head so badly.

— Kaushik (@kaushikisalive) February 1, 2018
Starting to think legends and retired players are just bitter because they are no longer playing the game and rarely experienced the way it is now

— Gooner James (@james64417333) February 2, 2018
Except that Ozil reportedly turned down Barcelona, United, PSG and several other offers from China according to @ChrisWheatley_ …Wrighty should really stop contradicting himself. Losing all credibility here.

— DB1Ö (@TranceNded) February 1, 2018