Chelsea fans are convinced Antonio Conte is gone
The Blues have been distinctly second best at Watford
Chelsea are down to ten men and trail 1-0 at half time
READ MORE: Next Chelsea manager odds – Enrique 2/1, Ancelotti 3/1 and more odds
Chelsea fans are convinced Antonio Conte is 'gone' after a nightmare first half performance by the Blues against Watford at Vicarage Road this evening.
Conte's side trail 1-0 to a Troy Deeney penalty, which came not long after Tiemoue Bakayoko got himself foolishly sent off for two yellow cards inside the opening half an hour.
It's been a weak defence of the Premier League title they won so comfortably and convincingly last season, and things just seem to go from bad to worse for Conte.
The Daily Express recently claimed that defeat in tonight's game could be enough for Roman Abramovich to sack his manager, and the supporters now increasingly seem to think it's heading in that direction.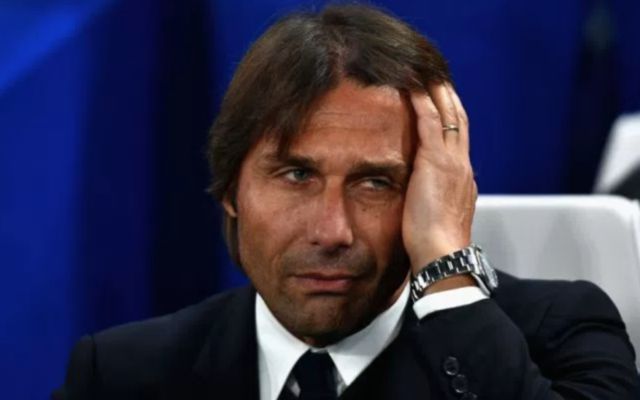 The west London giants have just two wins in their last nine in all competitions and if they carry on playing like this, they will do well to even finish in the top four this term.
Watford have been the better side and deserve their lead, and these Chelsea fans think they've seen enough…
Conte's gone.

— Adam (@AdamCooper16) February 5, 2018
Conte is gone. Guaranteed

— MXTTE BLVKK (@mxtteblakk) February 5, 2018
gone in the morning, Mr Antonio Conte. Bye

— Electronics Guy (@gTownPsycho_) February 5, 2018
Conte might be gone by tomorrow

— Tanaka (@Iam_L33roy) February 5, 2018
Gone you are Conte. It's all over.

— UNdirty Niger Delta. (@Karibiba) February 5, 2018
Dear Abramovich, enough is enough. CONTE OUT.

— CFC (@EdenHazard2018) February 5, 2018
Fuck Conte. Leave the club. I've had enough.

— Simon (@honestlysimon) February 5, 2018
not to be plastic here but i think Conte needs to go because his tactics with 3 at the back didn't working anymore and he still stubborn to use the same players such that fucking cunt Bakayoko , Cahil , Pedro…. like seriously i've had enough Antonio ?

— luqtroye (@luqtroye) February 5, 2018