Troy Deeney gave Watford the lead against Chelsea in the first half of tonight's game
The 29-year-old appeared to show the finger to Chelsea fans during his celebration
Fans on Twitter are now asking the FA to give the player a suspension
Fans on Twitter are tagging the Football Association and urging them to take action against Watford star Troy Deeney for his goal celebration against Chelsea.
While images were not entirely conclusive initially, the Hornets captain certainly appears to give the finger to the travelling supporters at Vicarage Road.
Deeney scored from the penalty spot to make it 1-0 to Watford in a first half they dominated against a highly unconvincing Chelsea outfit.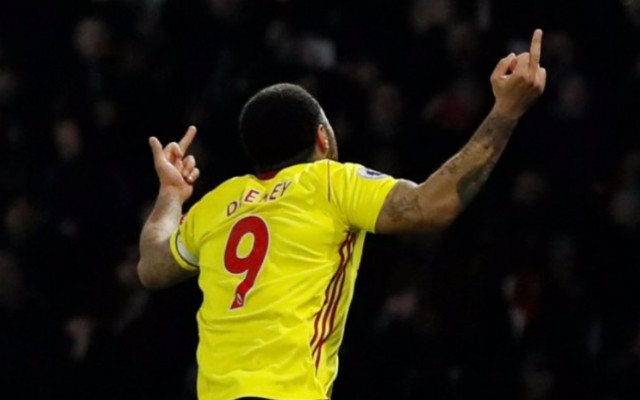 The Blues are not in the best form going into tonight's game, and are also down to ten men after Tiemoue Bakayoko's sending off in the opening 29 minutes.
Deeney's celebration might seem the least of the club's problems, but some fans on Twitter are clearly not too happy and are reporting his supposedly offensive celebration to the FA in their tweets during the half time break.
Do you think he did anything wrong, or are some Chelsea fans just looking for something to distract from their woeful first half performance?
@FA …finger …Deeney. pic.twitter.com/XFGGHWkvw8

— Paul Osborne (@AlbertHemel) February 5, 2018
Deeney sticking his middle finger up to the opposition fans as he 'celebrates'. Have a word @FA !!!! pic.twitter.com/st9XtqmZU0

— Kieran Whitehead (@KizzleKicks7) February 5, 2018
"Troy Deeney" ban coming up for giving Chelsea fans the middle finger

— stephen tydeman (@tydebloke) February 5, 2018
Naughty boy Troy Deeney giving the Chelsea fans middle finger after scoring! #watche pic.twitter.com/XWgtLs0U8w

— Mark Robinson (@robboma24) February 5, 2018
Is it me or did deeney just give the Chelsea fans the middle finger when he wheeled away after scoring

— Ben Large (@BenLarge96) February 5, 2018
@FA please ban Troy Deeney. He is an absolute mongrel and a disgrace to the premier league!!!!

— Todd Richards (@ToddRichardsSFC) February 5, 2018
Troy deeney setting a great example for the younger generation right there but I bet he doesn't even get a slap on wrist ?? @FA @SkySportsMNF @BBCSport pic.twitter.com/lptrvQm3UK

— Joe Dungworth (@JoeDungworth) February 5, 2018