Arsenal right-back Hector Bellerin has aimed a dig at Barcelona
The Spanish defender joined the Gunners when he was a teenager
Bellerin says he immediately noticed a big step up in training with Arsenal
Arsenal right-back Hector Bellerin has aimed a dig at his old club Barcelona when describing the big step up he felt in training upon joining the Gunners as a youngster.
The 22-year-old has risen to become one of the finest full-backs in Europe in his time at the Emirates Stadium, having broken into the side midway through the 2014/15 season.
Bellerin took his opportunity with both hands as he was brought in by Arsene Wenger to replace the Mathieu Debuchy, who never got his place in the side back after that.
The latest of many successful players to come through Barcelona's youth system, Bellerin actually says there was a big difference in the quality of training when he left the Catalan giants for north London.
'It was like night and day, the difference between Barcelona and Arsenal,' he is quoted by the Daily Mirror.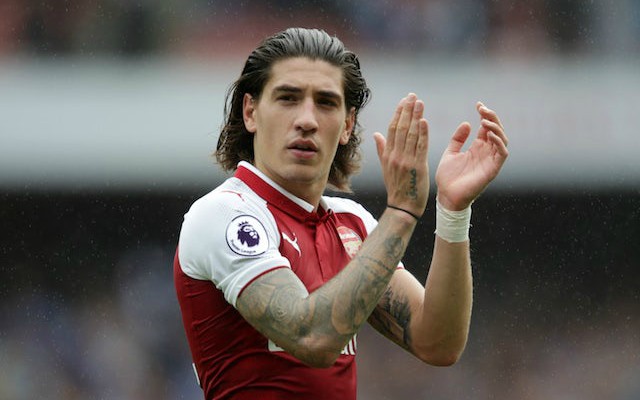 'At Barcelona I was just 8-16, when I came to Arsenal I was a professional footballer.
'At Barcelona we were just kicking around on the pitch, at Arsenal, my 1st day, there were no balls.'
Bellerin made these claims as he gave a talk at the Oxford Union this week, becoming the first active Premier League footballer to speak there.
According to the Independent, Arsenal actually faced interest from Barcelona in re-signing Bellerin during the summer, though they ended up keeping hold of him.