Arsene Wenger doesn't seem to have learned from past mistakes at Arsenal
The Gunners boss is in no hurry to tie Aaron Ramsey down to a new contract
Ramsey's current Arsenal deal expires at the end of next season
Arsenal manager Arsene Wenger has delivered arguably quite a worrying update on the contract situation of key midfielder Aaron Ramsey.
The Wales international hasn't always been an automatic starter for the Gunners, but is a long-serving and experienced member of Wenger's squad and looks in fine form at the moment.
Ramsey ran the show from midfield in Arsenal's 5-1 win over Everton last week, helping himself to his first hat-trick in a Gunners shirt.
Arsenal could do with tying the 27-year-old down to a new contract as his current deal is due to expire at the end of next season, with the club only recently seeing that leaving things too long can put them in a nightmare situation.
Alexis Sanchez's transfer saga dragged on for much of last season and the first half of this one as he approached the end of his contract this summer.
In the end, the Chile international was offloaded to Manchester United this January in far from ideal circumstances as Arsenal were rather forced to accept a low offer from a major rival to avoid losing him for free.
Despite all this being fresh in Wenger's mind, the Frenchman appears relaxed over getting Ramsey to pen a new contract as there is plenty of time to get it done.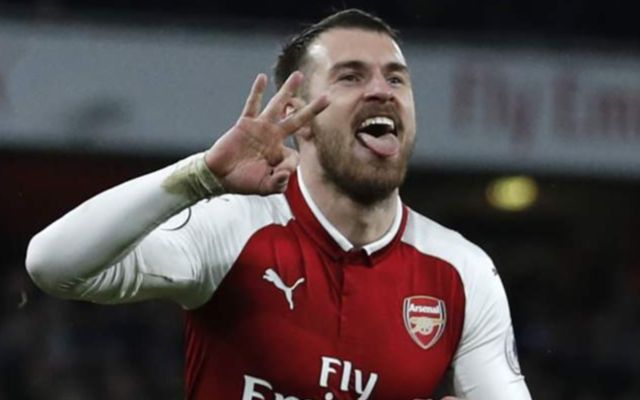 On the urgency of getting Ramsey to renew versus Jack Wilshere, Wenger was quoted in the Telegraph as saying: 'He (Ramsey) is a little bit different because there is less time-constraint than with Jack.
'With Jack it is now. With Aaron, do we lose two weeks or three weeks? It doesn't matter much. I want him to stay as well.'
This will surely have alarm bells ringing for many Gooners, who can see by now that it's just better to get these things sorted long before they can start to unsettle both the player and the club.
While Wenger rightly says that, in theory, a few weeks shouldn't make a big difference, weeks can quickly turn into months and in a year's time Ramsey would be free to talk with foreign clubs about a free transfer.