Simon Mignolet has started 19 of Liverpool's 26 Premier League games this season
But he has been displaced and is now the deputy to German stopper Loris Karius
Mignolet said he wanted to be a "leader" when he signed a new contract in 2016
That ambition has not materialised and he looks set to be Liverpool's eternal bridesmaid
Liverpool's legendary Welsh wizard Ian Rush once opined: "It's best being a striker. If you miss five then score the winner, you're a hero. The goalkeeper can play a blinder, then let one in… and he's a villain."
It is a simple philosophy but very apt in the case of Simon Mignolet.
Jurgen Klopp might remember the date. It was February 28, 2016. The venue was Wembley. The final of the League Cup, a occasion that had seen eight victories in eleven attempts by the Reds in previous years. Manchester City were the unstable enemy not the crack unit they are now. A mere three months had elapsed since Klopp's men had dismantled Manuel Pellegrini's side 4-1 with the first serious bout of gegenpressing at the Etihad.  Liverpool had the chance to win a much-needed trophy.
Truth to be told, the Reds didn't play well that day, but the game was goalless when Fernandinho's innocuous near-post blast went straight through Mignolet early in the second half.
It was a familiar failing.  For a keeper whose primary strength initially appeared to be shot-stopping, what was he for if not saving that? A Liverpool goalkeeper cannot be an impostor. As Klopp might say in his English-Germanic drawl: "It is not allowed"
To his credit, Mignolet actually played a blinder from the moment Liverpool fell behind, but the damage had been done. Destiny had already decided that another embattled goalkeeper was going to have his day. Despite a late Philippe Coutinho equaliser, Willy Caballero became the unlikely hero for City in the ensuing shoot-out. The lesson was that if you are going to make big-game mistakes, then just make sure the trophy ends up in the cabinet.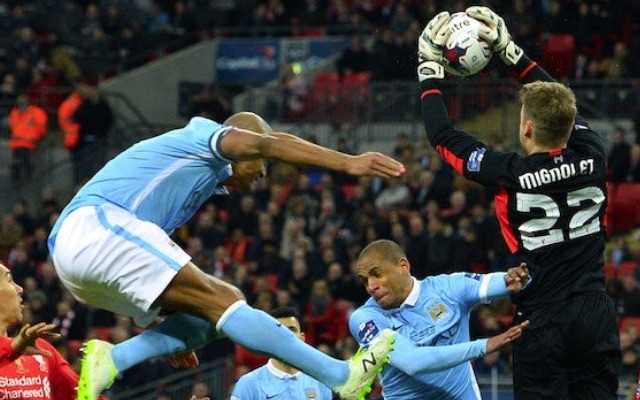 Six weeks before the Wembley loss, despite a number of high-profile errors and a shots saved ratio that would have embarrassed Claudio Bravo, Mignolet received more than he gave with a new five-year contract. "I am the sort of character that wants to be a leader, wants to speak in the dressing room and help the defence," the former Sunderland keeper boldly declared at the time.
Those words ring hollow. Loris Karius's performance against Spurs last Sunday, while not universally approved, showed some small but significant steps forward.  The revolving door policy between the German and Belgian has been as confusing as Brexit, but there's a feeling the latter has almost exhausted all patience.
The 29-year-old appeared to be writing his own last rites at Anfield in the FA Cup exit against West Brom a fortnight ago. It was a showing of such a ghostly, pallid complexion, an encapsulation of his shrinking stature and presence as the eternal bridesmaid at a club that has "almost" won trophies in the last few years. This now looks like turning into a total divorce. Such public demotion behind Karius feels like more than a temporary separation.
For the majority of his four years at Anfield, most fans still find "lettuce hands" unwatchable. The Granit Xhaka goal at the Emirates in December was the nadir. It is a mist that has descended so far that even the good days are getting buried beneath the sheer insecurity of a guard who lets anything through the cell door when the riot needs closure.
Mignolet doesn't stand up when compared with the classic Liverpool number ones of old, from the late Tommy Lawrence, an early purveyor of the "sweeper keeper" to the technical excellence and class of Ray Clemence in the late 70s and early 80s, through to the elastic and eccentric Bruce Grobbelaar, a man who rarely let fate take a hand when he could intervene. There is no place for cowering Continental custodians in the pantheon of Anfield greats.
Grobbelaar has never had time for Klopp's now second choice keeper: "He doesn't command his area….at least Dracula comes out of his coffin now and then." When Liverpool self-combusted in the Europa Cup final against Sevilla in May 2016, Mignolet failed to keep out Andujar Moreno's second goal, driving a great big stake through any chances of "Dracula" and his team coming back from the dead. Another trophy gone.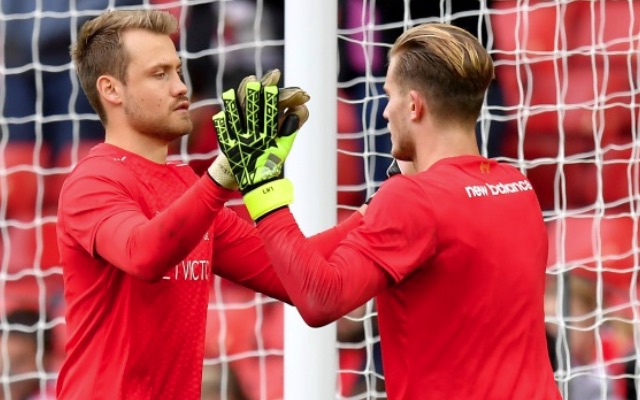 Brendan Rodgers bought the Belgian from Wearside in 2013, a time when Pepe Reina was still the man in possession. The Spaniard had excelled under Rafa Benitez's detailed defensive dossier at Liverpool. Yet there was no battle for the number one spot at all in that Rodgers had already planned for Reina's move to Barca (which eventually fell through when Victor Valdes stayed put).  He eventually left the club under acrimonious circumstances, farmed out to old boss Benitez at Napoli.
So the gig at Liverpool came pretty much without a stress in the world for Mignolet. His competition has been virtually non-existent, When Brad Jones displaced him against Manchester United in 2014 for a 3-0 defeat, it felt like a slap on the wrist but nothing more…
It could have been so different. In those early days during that memorable 2013/14 campaign, there were clean sheets and excellent performances. Unfortunately, the lame errors that sustained the trickle of 52 goals conceded which ultimately cost the Reds the title became uncomfortably regular and were merely covered up by the 100 club at the other end.
In the national team, Thibaut Courtois famously accused his team-mate of disrespect when, emboldened by Liverpool's charge of 2014, the rival publicly declared his desire to be Marc Wilmot's number one. The truth is that Mignolet hasn't been able to lay a glove on Chelsea's colossus. Without first-team action, his hopes of leaving Russia with love are zero.
"It's a challenge but that's what you want. You want to play in the big games, you want to play for a big club and to play with pressure." It appears that Mignolet hasn't got the cojones to come through the pressure points to deliver the prize.