It's Monday and that means BBC Sport pundit Garth Crooks is back with his Premier League team of the week with Liverpool and Tottenham well represented in his line-up.
Brighton goalkeeper Mat Ryan kicks things off between the posts as his penalty save in the 1-1 draw with Stoke City was seemingly enough to get the vote.
SEE MORE: Photo: Awkward moment £75m Liverpool star Van Dijk makes embarrassing mistake before Southampton clash
Although based on the statistics from that game, the Potters only had three shots on target, one of which was their goal and another the penalty, so Ryan didn't quite have a particularly busy day which makes this pick questionable.
Nevertheless, he makes the cut for Crooks and has a back three consisting of Pablo Zabaleta, Virgil van Dijk and Jan Vertonghen ahead of him with all three stars playing key roles in wins for their respective sides at the weekend.
Naturally, there has to be a place for Manchester City maestro Kevin De Bruyne who continues to pull the strings for Pep Guardiola's men with some more world-class vision and passing at the weekend.
The Belgian international now has 11 goals and 18 assists in 37 appearances in all competitions this season, and so he will be a pivotal factor in City winning the Premier League title and other trophies if they go on to do so.
Jose Izquierdo scored a wonderfully-worked Brighton goal as he was key again, while Gylfi Sigurdsson and Marko Arnautovic complete a midfield quartet in the line-up.
The attacking trident picks itself in truth as Sergio Aguero gets the nod after his four goals against Leicester City as the Argentine forward continues to prove how crucial he remains for City, especially in the absence of the injured Gabriel Jesus.
Mohamed Salah still can't stop scoring goals as he made it 29 for the season in just 35 games while he also grabbed an assist in the win over Southampton, and Harry Kane completes the line-up after he bagged the winning goal in the north London derby to help Tottenham see off Arsenal.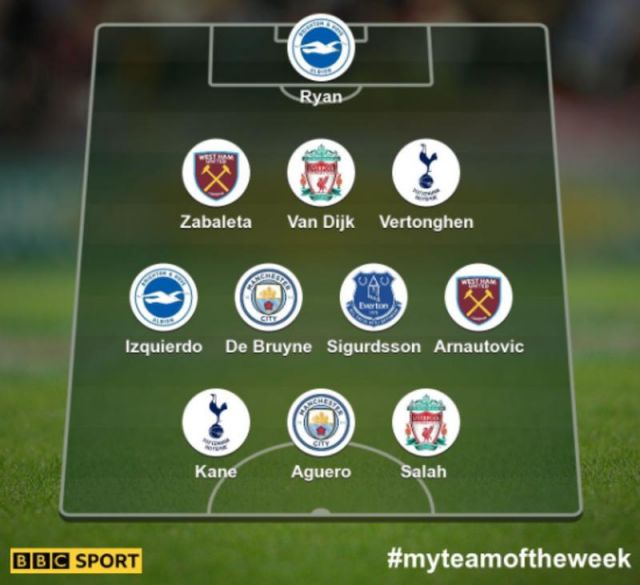 Image courtesy of BBC Sport
However, it wouldn't be a Crooks team of the week without getting stick from readers, and the same applied this weekend as they couldn't quite believe some of the omissions, as seen in the comments below with Newcastle fans in particular left disgruntled with their snub…
Garth doesn't have a clue once again, obviously asks his PA, tell me who saved a penalty, which players scored and I will pick my team around that. How Newcastle have zero players in that team, surely is a sackable offence. PS VVD? Really??

— Mark (@Tosty505) February 12, 2018
How is Dembele not in that?? He single handedly bossed the entire Arsenal midfield on Saturday

— Stuart McCallum (@StuartMcCallum2) February 12, 2018
No Lascelles? Shelvey? How this fella is still employed as a pundit is a joke. Laughable analysis every week

— Coilín MacNiocláis (@tickles23) February 12, 2018
No Newcastle players? Delete your account #nufc

— Steve Moorhouse (@stevejmoorhouse) February 12, 2018
Shelvey should be in that. Surprised he hasn't put Pogba in the team

— Andy (@andytt87) February 12, 2018
Not a single Newcastle United player in his Team of the Week? No Diame or Shelvey or Lascelles or Dubravka……..?

— Tony Stephenson (@tonytoon65) February 12, 2018
Garth Crooks is the most clueless football pundit ever. Talks utter crap

— Me (@curlywiggins) February 12, 2018