Pep Guardiola tunnel row at half time of Wigan defeat explained
The Manchester City boss says he made a request to opposite number Paul Cook
Guardiola simply wanted Cook to stay in his technical area
Manchester City manager Pep Guardiola has explained what he said to Wigan boss Paul Cook during what looked an explosive exchange of words in the tunnel at half time last night.
Guardiola's side were sent crashing out of the FA Cup in a shock 1-0 defeat to the League One side last night, courtesy of a late goal from Will Grigg.
It was clearly a frustrating evening for all involved at City, with Guardiola seeming to take it particularly badly as he saw his side's much-hyped-up quadruple hopes end in unexpected fashion.
Even by half time the Spanish tactician was fuming, as video showed him squaring up to Wigan boss Cook on the sidelines before the argument continued in the tunnel at the break.
Guardiola has attempted to play down the incident and wanted to focus only on the game, but could not escape being quizzed about his actions.
Offering an explanation, the 47-year-old said he simply wanted the Latics manager to stay in his technical area, though this seems like a very watered-down version of events judging from how animated he seemed to get.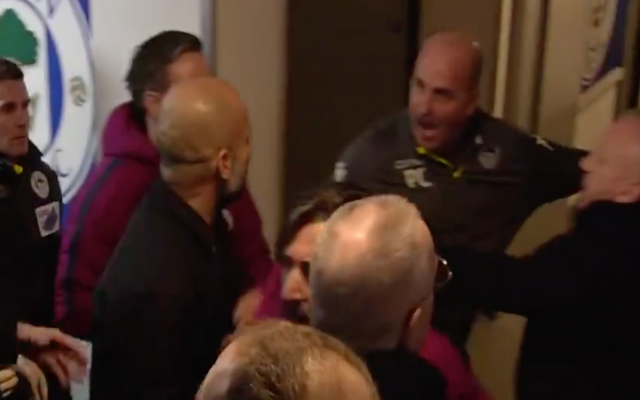 'No, nothing… stay in his position (in the technical area) that's all,' he is quoted in the Metro.
'Guys, if you want to ask me about football, (ask) about football, nothing happened in the tunnel. Nothing happened with my colleague. Nothing. So, it was: "please, stay in your position", that's all. And that's finished.'
This is not the first time Wigan have humiliated City in this competition, having also stunned them in the final back in 2013 and the quarter-final the following season before yesterday's big result.