Chelsea fans are not happy with one player for his role in Lionel Messi's goal
The Barcelona star equalised against the Blues with a vital away goal at Stamford Bridge
Chelsea fans believe Cesc Fabregas could have done better with Andreas Christensen's pass
Chelsea fans believe Cesc Fabregas may really have been the main man to blame for Lionel Messi's equaliser for Barcelona last night, rather than Andreas Christensen.
The Danish defender's pass to Fabregas rather got away from the midfielder, allowing Andres Iniesta to nick in and pick out Messi to make it 1-1 on the night and give the visitors a huge advantage going into the second leg at the Nou Camp.
Chelsea had taken the lead through Willian, but the dynamics of the game changed dramatically with that away goal for Barcelona, and fans are understandably aggrieved at how the strike came about.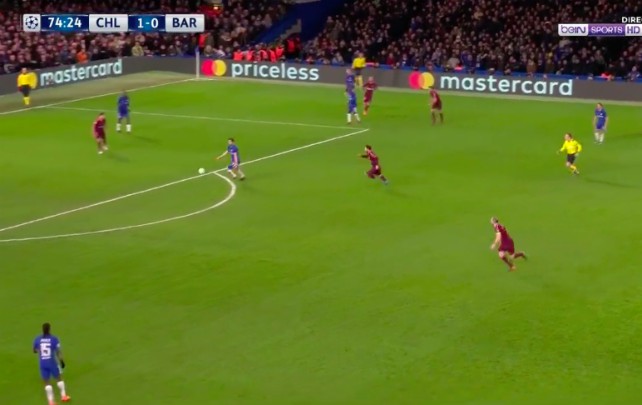 While Iniesta showed great vision and composure to pick out Messi, who then finished with all the class and quality we've come to expect from him, it was still ultimately a mistake by Chelsea that let them in.
Christensen's pass wasn't the best, but Blues supporters seem agreed that Fabregas could have done better to control it in the first place, with his slow reactions to the ball allowing Iniesta to win possession in a dangerous area, which ultimately proved costly.
Here's what Chelsea fans seem to be making of the whole thing…
A superb overall performance by Chelsea but that fabregas mistake cost them.

— Ahmer Ali (@Ahmmi7) February 20, 2018
F for fool! F for fabregas!! Catastrophic mistake..What a pity

— AA (@ogbuefi_mystic) February 20, 2018
Bit harsh pinning all the blame on Christensen for that Barcelona goal, Fabregas and Azpi both on their armchairs not wanting the ball and then it's god damn awful goalkeeping from Courtois.

— Joe Cockburn (@joecockburn) February 21, 2018
If Fabregas wasn't lazy Christensen did nothing wrong. Fabregas is always guilty of snow reaction in such situations. https://t.co/lg4Wbl2cRW

— Ugotex (@Ugotexy) February 21, 2018
Cesc:
His laziness and lackadaisical disposition without the ball riles the fuck outta me. The mistake that cost us the goal would have been prevented if Cesc Fabregas was faster. I have legit never seen him run. It's a terrible trait that makes you think he doesn't care tbh.

— Cross? (@Elcrucifixio) February 21, 2018
Fabregas was slow getting to the ball…then made the stupid mistake of even bothering to look around to see Messi's run towards the ball

— TOLU (@SpinnTolu) February 20, 2018