Chelsea goalkeeper Thibaut Courtois says his agent will listen to offers from Real Madrid
The Belgium international spoke after the Blues' draw against Barcelona
Courtois' family is based in Madrid though he admits he's not clear on his future
Chelsea goalkeeper Thibaut Courtois dropped something of a transfer bombshell when speaking after last night's disappointing draw against Barcelona in the Champions League.
The Belgium international is one of the finest 'keepers in the world and it's little surprise to see him being linked with Real as they seem to search for a new number one for that position.
Don Balon claimed this week that Madrid president Florentino Perez could be in touch with Courtois' agents this week, and the player himself has appeared to invite this interest, confirming that such approaches are on the cards and that his representatives will listen to them.
The 25-year-old was not clear either way on his future, saying he will not forget the faith shown in him by Chelsea, but also stressing that his family being based in Madrid is important, even if he feels some quotes about him saying his heart was in the Spanish capital have been taken somewhat out of context.
'I'm not clear about my future, but what I said that my heart is in Madrid was misunderstood,' Courtois is quoted by the Express.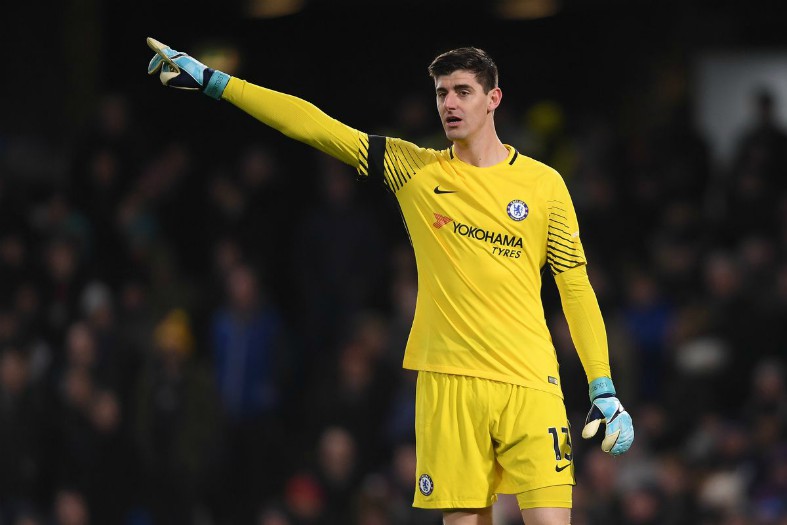 'I have two children in Spain, in Madrid, and that's not easy.
'I do not think Florentino Perez calls me, but he will call my agent and he will listen to him.
'But I still have one year left (on my contract) and I'm happy and talking to Chelsea.
'They have bet on me from the first moment and that is not forgotten.'
Either way, with Courtois still to extend his contract that expires at the end of next season, this is surely another worrying development for Chelsea fans in terms of keeping hold of one of their most important players.
Courtois has been Chelsea's first choice in goal since the 2014/15 season, having previously shone on loan at Atletico Madrid for three years.