Chelsea's Eden Hazard gave some shooting advice to Willian
The Belgian says he encouraged his team-mate to change his approach
Willian hit the post twice against Barcelona before finally opening the scoring in the second half
Chelsea star Eden Hazard has explained how he encouraged Willian to alter his shooting style after hitting the post twice against Barcelona before finally finding the back of the net.
The Brazil international was a stand-out performer for the Blues on the night as they earned an encouraging but frustrating 1-1 draw against Barca as their performance arguably merited a better result.
Willian hit both posts in the first half before he finally steered a shot in in the second, and Hazard says he spoke to the 29-year-old about aiming his efforts less towards the wide sides of the goal.
Who knows if Willian had that in mind when he did eventually break the deadlock, but it's clear Hazard wants to take some credit after discussing his exchange with the player after the game.
'I said to him [Willian] that he needed to shoot in the goal and not try to touch the post,' Hazard is quoted by the Metro.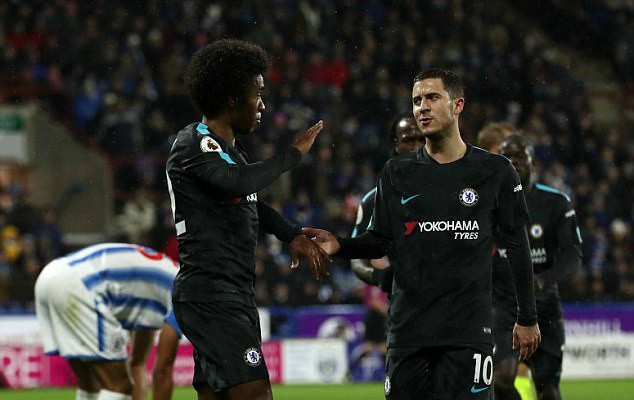 'I said that to him in the first half and you saw in the second half he scored the goal. I'm happy for him, he played really well.
'He's a top player and he showed that.'
Willian has a decent scoring record down the years for Chelsea, but could arguably contribute more in that department given his attacking role in the team.
The former Shakhtar Donetsk winger clearly has a good shot on him, but sometimes lacks that finishing touch, as he showed with some well-struck but ultimately wayward efforts against Barcelona.
Hopefully Hazard's advice will rub off on him now and he can add to his goal tally to help Chelsea progress in the Champions League.